THE INDO-AMERICAN ARTS COUNCIL PRESENTS
THE OPENING NIGHT OF ALTER EGO PRODUCTION'S NEW YORK PREMIERE
of Tom Stoppard's
Indian Ink
Directed by Ashok Sinha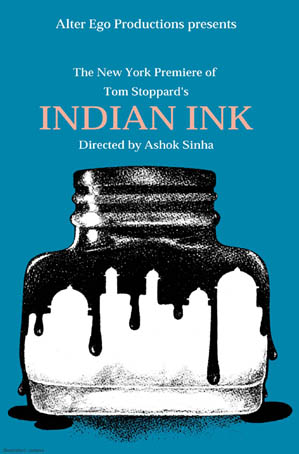 INDIAN INK
'Set against the backdrop of Indian independance, Indian Ink lyrically tells the story of an Indian painter and an English poet. Fluidly shifting between pre-Independance India and Thatcher' Britain, the play is a passionate exploration of art and empire.'
The Walker Space, 46 Walker Street, New York City
(2 blocks south of Canal, between Church & Broadway)

| | |
| --- | --- |
| Opening Night | 7 p.m., Firday, August 15 |
| Gala Benefit Reception | After the show 10 p.m onwards |
Contribution: $100 (per person)
RSVP
Reshma Patel
303 E. 43rd Street, #9C
New York, NY 10017
Please write all checks to Indo-American Arts Council. Thank you.
16th to 30th August at 8 pm.
Matinees, Sundays, 17th and 24th August, at 2 pm.
(no shows, tuesdays, 19th and 26th August)
Featuring
Helen-Jean Arthur*, Rebecca Challis, K evin Chap, Brian Coffey*, GR Johnson*, Deep K atdare*, Lethia Nall*, Vijay Prashant, Sendhil Ramamurthy*, Debargo Sanyal*, Vikram Somaya.
Production
Asst. producer

Puja Ogale

Asst. director

Avantika Daing

Dramaturge

Anuvab Pal

Stagemanager

Avantika Daing

Set design

Tania Bijlani, Seema Malik, Kapil Khanna

Costume design

Kirche Zeile, Vaishali Vig

Lighting design

Jeff McCrum

Music/sound design

Atul Subbiah

Graphic design

Samara Mahendru, Shivani Aneja

Web Design

Ashwan Wadhwa

Finance:

Priyanka Mathew, Ritendra Roy, Anuraag Agarwal,
Gaurav Tejwani, Ranjit Gupte, Amit Nerurkar

Publicity:

Puja Ogale, Nima Paragjee, Shourin Roy, Shamin
Vaswani, Reshma Patel.

Events:

Saumya Lashkari, Avantika Daing

Producer

Nilay Oza
In the press...
http://www.playbill.com/news/article/80802.html http://www.showbusinessweekly.com/news/news3.shtml http://www.theatermania.com/content/news.cfm?int_news_id=3762

www.alteregoproductions.org This is an Equity Approved Showcase.