Comedian Anuvab Pal
ALIVE AT 40
COMIC STRIP LIVE
1568 Second Ave,(between 81st & 82nd Streets) NYC 10028
Tuesday September 26th @ 7 pm
2 item purchase mandatory(food, drink or memorabilia) *
Tickets: $25 general admission; $20 IAAC Members.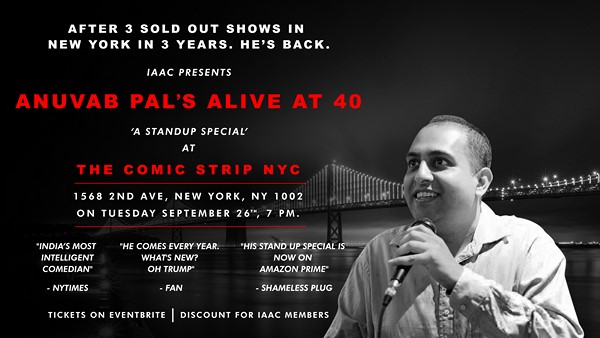 What is it like to be a 40 year old man in contemporary India? On one side, Indian uncles with medieval values. On the other side, selfies and snapchat. Anuvab Pal tells us how middle aged Indian men delude themselves into wanting to be younger, and the tragedies that await them. As seen through his life as Indiaís most senior stand up comedian (pun intended). Also in this autobiographical show, he covers the rise of stand up comedy in India these past 10 years, not the highs but mostly the lows. And sometimes, even lower than that. Who said Comedy isnít tragedy?
Anuvab Pal is an Indian writer, director and stand up. He started his career in NYC and considers IAAC family. He is the author of 4 award winning plays including Chaos Theory (BBC Radio Playwriting finalist), and FATWA (NYC Fringe Finalist). He is the scriptwriter of 3 Bollywood films one of which, Loins Of Punjab Presents, co written with Manish Acharya, was a box office hit in the US and India. As a stand up, the NY Times calls him India's most intelligent stand up comedian and his specials have played to sold out houses in 30 cities worldwide. His special Alive At 40 is now playing worldwide on Amazon Prime Video. In Sept 2017, he premiered a new series Going Viral Pvt. Ltd, a comedy about a social media company, on Amazon Prime. It will be available in the US soon.