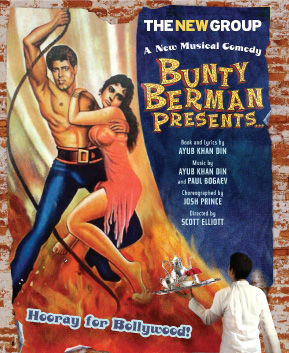 The World Premiere of
A New Musical Comedy
BUNTY BERMAN
PRESENTS…
BOOK AND LYRICS BY AYUB KHAN DIN
Music by AYUB KHAN DIN and PAUL BOGAEV
CHOREOGRAPHY BY JOSH PRINCE
Directed by SCOTT ELLIOTT
Only $33
Code: TRBB45
Go to www.broadwayoffers.com to redeem code
Now Playing Thru June 1st

HOORAY FOR BOLLYWOOD!
Set at a failing Bombay studio in the 1950's, movie producer BUNTY BERMAN (Ayub Khan Din) has long been the toast of Bollywood. But now RAJ (Sorab Wadia), his biggest star and best friend is getting old… a little porky and losing his Box Office Appeal. When their new movie bombs, BUNTY must navigate through DIVAS, MOBSTERS and ambitious TEA BOYS to save his studio.

SINGING IN THE RAIN with a large does of chutney, BUNTY is hilarious and outrageous. With songs like "It's Great to Wake Up in Bombay" and "Let's Make a Movie", BUNTY is a delightful mash-­-up of Bollywood, Hollywood and Broadway.

For more information go to www.thenewgroup.org.
The Indo-American Arts Council is a 501 ©3 not-for-profit secular arts organization passionately dedicated to promoting, showcasing and building an awareness of artists of Indian origin in the performing arts, visual arts, literary arts and folk arts. For information please visit .