OPENING APRIL 22! TEN PERFORMANCES ONLY!
GET YOUR TICKETS NOW !
www.smarttix.com

Wizard Oil Productions presents
Empire of the Trees
A new play by Adam Kraar,
Directed by Sherri Eden Barber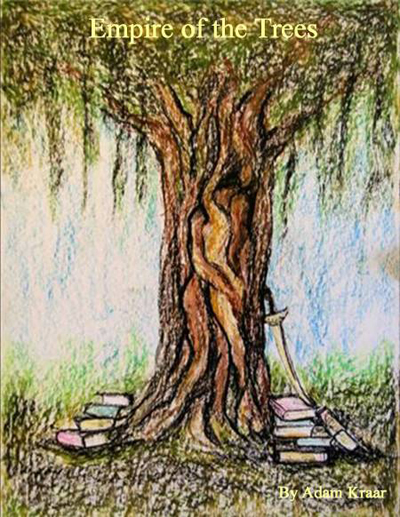 IN WORLD PREMIERE OF NEW PLAY 'EMPIRE OF THE TREES', MYTH, REALITY
AND CLASS CLASH IN 1960'S INDIA

Thursday, April 22nd – Friday, April 30th.
Opening weekend: Thursday - Saturday at 8, Saturday & Sunday 3pm.
Closing weekend: Tuesday - Friday at 8, Special Friday 3pm Matinee.

GET YOUR TICKETS NOW!

Empire of the Trees is set in India in 1963. When Deborah, a young American woman living in New Delhi, strikes up a literary and romantic bond with a traveling Indian bookseller, she discovers she has a mysterious connection to ancient Indian myth. She tries to share her new awareness with her husband, an ambitious journalist, but clashes with his inter-cultural suspicions, and cruel facts of class and history. She seeks spiritual solace with the bookseller, and from the wise old Banyan tree in her yard – which causes her household to explode, and myth to spill into reality.

Empire of the Trees was work shopped at the Lark Theatre and the William Inge Center for the Arts, and was a finalist for the 2009 Stanley Drama Award. The play was presented as a reading fall 2009 at the Kennedy Center's Page to Stage Festival and at Ensemble Studio Theatre.

Tickets: $18 and are available at www.SmartTix.com
or 212-868-4444 www.wizardoilproductions.wordpress.com.
FEATURING:
Rajesh Bose*
(The Seagull, NAATC at Theatre for the New City; Love Person, Victory Gardens Theater, Chicago)
Graham Outerbridge*
(Is Life Worth Living?, Mint Theater)
Kunal Prasad*
(Morbidity and Mortality, The Magic Theatre; Twelfth Night, FOOLSfury, San Francisco)
*performing courtesy of Actor's Equity Association.

Taisha Cameron*
as Asoka Tree
(Alice, Kennedy Center; Lost & Foundling, Imagination Stage)
Dana Mazzenga
(Tilly and Bill, Wizard Oil Productions; Radiotheatre's Frankenstein)
Written by...
Adam Kraar
Directed by ...
Sherri Eden Barber
Producer...
Amanda Kate

Josh

i / Wizard Oil Productions
Set Design...
Andrew Haserlat
Lighting Design...
S. Benjamin Farrar
Costume Design...
Eileen Nober
Sound Design...
Jordan Cooke
Choreographer ...
Shannon Stowe
Fight Choreographer...
Iris McQuillan-Grace
Technical Director...
Cynthia Jankowski
Production Manager...
Ahmed Tigani
Stage Manager...
Jaimie Van Dyke
June Havoc Theatre
Abingdon Theatre Arts Complex
312 West 36 Street, 1st Floor
New York, NY 10018
Take the A, C or E train to 34TH Street

MEDIA SPONSOR:

The Indo-American Arts Council is a 501 ©3 not-for-profit arts organization passionately dedicated to promoting, showcasing and building an awareness of artists of Indian origin in the performing arts, visual arts, literary arts and folk arts. For information please visit