Backgound of Guruvayur: Every day of the year, thousands of pilgrims swarm into the sacred precincts of Kerala's Guruvayur Temple. They come to seek the blessings of Lord Krishna, known locally as Guruvayurappan, a deity whose precious idol was, according to myth, originally worshipped by Lord Vishnu. Another belief states that the idol was eventually inherited by Lord Krishna and enshrined in Dwaraka and that, just before His death, He declared that it was to be re-installed in India's most sacred place. The task was carried out by Brihaspathy, the Guru of the Gods, and Vayu, the Wind God, whose combined names gave the temple its name. After travelling all over India, they eventually arrived at the place where the present temple now stands, and were welcomed by Siva and told that the purpose of their journey was fulfilled. From these mythical beginnings, Guruvayur became one of India's most important temples, the small shrine that the Lord once occupied, now a mahakshetram, a great temple. It is a temple whose elaborate poojas have survived the many vicissitudes of history, of wars and changing times, always adhering to the rules that Adi Sankaracharya is said to have laid down a thousand years ago. That the temple has not only preserved this remarkable link with its divine origins, but has also continued to respect and honour its unique customs is largely due to the presence of the hereditary families, priestly and otherwise, who continue to fulfil the duties assigned to their ancestors many centuries ago. It is also a temple where devotion to Guruvayurappan has remained undiminished by the passing centuries, where the thousands of devotees who seek His compassionate blessings still uphold the mystery of His divine presence.

Heaven on Earth: The Universe of Kerala's Guruvayur Temple takes the reader into the heart of this complex universe, chronicling the temple's myth and history, describing its rituals and beliefs, its traditional style of management, its festivals and patronage of Kerala's ancient art forms, its elephants and, of course, the beliefs of all those who worship within its precincts. It is a book made possible both by the trust and willingness of people, including the temple priests, to share their knowledge, and by author-photographer Pepita Seth's commitment to the project and her determination to represent the scope of the temple's world.

This remarkable and unique record is the outcome of 7 years of careful research enhanced by sensitive photographs that not only portray all aspects of life within the temple, but its atmosphere of intangible divinity.

Pepita Seth: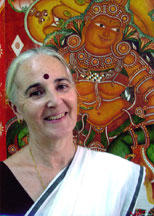 Pepita Seth was born in London and grew up on a farm in Suffolk. Her career began in the cutting rooms, editing British and American documentaries and feature films-working with such directors as Stanley Donen, Otto Preminger, Tony Richardson and Ted Kotcheff. It was the chance discovery of her soldier great-grandfather's 1857 diary which, in 1970, inspired her to make her first visit to India. In 1972, she returned to India, more specifically, to Kerala. From then on, between work assignments, she made regular visits to Kerala, finally basing herself in Thrissur where she now lives. By 1979, she had given up all film work and, driven by her passion and respect for the region's culture and traditions, begun seriously photographing and writing about the rituals of Kerala's Hindus. In 1981, she received official permission to enter Kerala's temples-including Guruvayur Temple.
She has lectured extensively on Kerala's traditions in India, Britain- at the British Museum and the Nehru Centre, and the United States-at the Smithsonian, Columbia and Barnard Universities. Exhibitions of her photographs have been held in India through the British Council, and in Britain and the United States under the aegis of Nikon House and Barnard University.
Her novel, The Spirit Land, was published in 1994, the year she began to focus on a single subject: the Theyyam rituals of Malabar. The 5 years she spent in northern Kerala resulted both in exhibitions-in Britain
and the United States-and the firm conviction that she would return for more intensive work.
In 2001, encouraged by the temple authorities, she began her research on Guruvayur Temple. Heaven on Earth: The Universe of Kerala's Guruvayur Temple is the culmination of 7 years of research and documentation-an experience Pepita Seth acknowledges as having changed her life.

The Indo-American Arts Council is a 501 ©3 not-for-profit arts organization passionately dedicated to promoting, showcasing and building an awareness of artists of Indian origin in the performing arts, visual arts, literary arts and folk arts. For information please visit