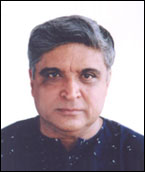 Mr. Javed Akhtar Son of well-known Urdu poet and film lyricist Jan Nisar Akhtar and Safia Akhtar, teacher and writer, Javed Akhtar belongs to a family lineage that can be traced back to seven generations of writers. The highly respected Urdu poet, Majaz was his mother's brother and the work of Muzter Khairabadi, his grandfather, is looked upon as a milestone in Urdu Poetry.

Javed Akhtar's body of work can be categorized under four distinct categories: a) Script Writer b) Lyricist c) Poet d) Activist

Alongwith his ex-partner, Salim, he scripted super hits like, 'Zanjeer', 'Deewar',' Sholay', 'Haathi Mere Saathi', 'Seeta Aur Geeta', 'Don', 'Trishul', etc. Salim-Javed as a writer-duo gave to Indian Cinema the memorable persona of the 'Angry Young Man'.

After the split from his partner Salim (in 1981), he has written a list of successful films, notable amongst them are; 'Sagar', 'Mr. India', 'Betaab', 'Arjun' and Lakshya etc.

AWARDS: FOR FILMS
National Awards for Best Lyricist five times.
Film Fare Award for Best Script seven times.
Film Fare Award for Best Lyricist seven times.
Screen Award for Best Lyricist four times.
Zee Award for Best Lyricist five times.
Iifa Award for Best Lyricist three times.
Sansui Viewers Choice Award four times.
AWARDS FOR ACTIVISM
Padmashri in 1999 by the Government of India, given to eminent citizens for excellence in their field and distinguished contribution to society.

Avadh Ratan from Government of Uttar Pradesh in 2000.

National Integration Award from All India Anti-Terrorist Association 2001.

National Integration Award from Mewar Foundation 2001.

Nagrik Samman by Mayor of Bhopal 2002 amongst countless other awards.
UNIVERSITIES addressed
Harvard University – Keynote speaker on Secular element in Urdu poetry.

Columbia University – Keynote speaker on Social Justice and Communal Harmony.

University of Mary Land – Keynote speaker on Forces to counter fundamentalism.

Berkeley Califonia – India Politics & Divisive Forces

University of London – Modern Urdu Poetry

University of Cambridge – Indian Society – Indian Cinema

University of Oxford – Indian Cinema & New Icons.

Jawahar Lal Nehru University

Aligarh Muslim University

Vishwa Bharati University
Javed Akhtar started writing Urdu poetry in 1980. His first collection of Nazms and Ghazals entitled, 'TARKASH' has had a very successful release in 1995. It is already in its ninth edition in Hindi, and fifth edition in Urdu. It has received rave reviews both as a book and as India's first audio book (available on cassettes and CD) brought out by PLUS MUSIC. The audio book has sold more than a hundred thousand copies.

Dr. David Matthews, formerly Senior Lecturer in Urdu and Nepali at the School of Oriental and African Studies (SOAS), London University have translated TARKASH in English. The book, entitled as "QUIVER" was released by Prof. Amartya Sen. TARKASH was translated in Bengali by the noted Bengali author Sunil Gangopadhyaya. The book is also translated into Gujarati. The celebrated painter M.F. Husain has painted sixteen canvases based on Javed Akhtar's poems in Tarkash.

Javed Akhtar has written a large number of poems against communalism, social injustice, National Integration and for Women's Rights. Ministry of Human Resource Development has declared his song, beckoning the misguided youth to come forward and build the country, the National Anthem for Youth in 1995.

On the initiative of President Abdul Kalam, Javed Akhtar has written five poems on the Indian flag. These have been interpreted musically by Pandit Jasraj, Pandit Shiv Kumar Sharma, Ustad Zakir Hussain, L Subramaniam and E Srinivas.

Two books "Talking Films" & "Talking Songs" published by Oxford University Press have featured Javed Akhtar in conversation with Nasreen Munni Kabir a London based journalist. These have been hailed by film critics as the most definitive works on Indian Cinema. "Talking Songs" also carry translations of 60 Javed Akhtar's songs.

He is a founder member of the respected Muslim Intelligentsia-a group that has been vocal against fundamentalism of all hues and seeks to lead the Muslims to concentrate on education and women's rights.

On the occasion of Gandhi Jayanti 2nd October 2003 Javed Akhtar released the declaration of MUSLIMS FOR SECULAR DEMOCRACY. MFSD of which Javed Akhtar is president, was formed after consultation with large numbers of organizations and intellectuals from all sections of society. MFSD has not only taken a secular, liberal and progressive stand, but to a great extent has succeeded in building a consensus on controversial issues of Muslims such as Uniform Civil Code, Triple Talaq, Haj Subsidy etc. It is heartening to note that MFSD has found support amongst both Teachers and Students Associations of Aligarh Muslim University. Chapters of MFSD have been launched in cities like Aligarh, Allahabad, Lucknow, Kanpur and Mumbai. It is an ongoing process.

He is an active member of "Citizens for Justice and Peace". CJP is an organization for eleven people that has kept the Gujarat Genocide issue alive and has taken Gujarat government to court.India

Today a weekly magazine equal to Time and News Week has included Javed Akhtar's name in a list of 50 Most Powerful people in the Country.

Javed Akhtar is an avid reader with a keen interest in politics. His poetry reflects both his political awareness and his literary concerns.

He is married to Shabana Azmi, India's most respected actress and social activist and Ex-Member of Parliament