The Indo-American Arts Council
presents
Miriam(Mimi) Batliwala's
IN SIGHT

Book launch, discussion and reception.



7-9 PM. September 12th, 2013


Sundaram Tagore Gallery, 547W 27th St, NYC



Books will be available for sale and signing during the reception.
rsvp: Click here
Suggested donation: $5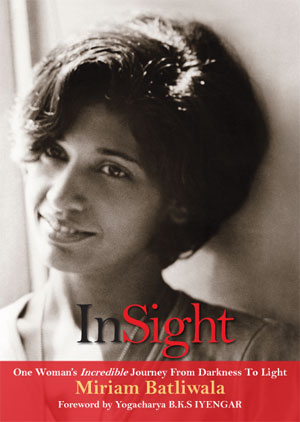 This event is made possible by the generosity of Anjali Mathrani.
MIRIAM (MIMI) BATLIWALA

Mimi Batliwala daughter of Mr. & Mrs. E. U. Botawala was brought up in Bombay, At the age of 12 she was suddenly diagnosed with Macular degeneration which is an incurable eye disease thus making her visually impaired. Her parents never ever let her feel, handicapped or incompetent in any of her activities such as sports, swimming, golf, piano or at school. This is what gave her the courage to be like the others and find her own way to participate in various activities. She studied in a boarding school in Nazareth Convent in Ooty, then at St. Xavier's College, Bombay, then studied Italian in the University for foreigners in Perugia, studied French as well. Worked in Geneva for six months and then got a job with the Indian Tea Board in Brussels for four years. The job entailed working at international exhibition all over Western Europe for the promotion of Indian tea.

Studied yoga with Yogacharya B.K.S Iyengar since 1978 and after intensive teachers training programme in 83 and 84 with the Guru in Pune started teaching yoga. Taught in Mumbai and the Iyengar Institute in New Jersey, USA. Also taught yoga for blind boys at Happy Home School.

It was not only the support that she received but her own determination and daring courage which enabled her to overcome any obstacle with confidence whereby she gained success in each and every job undertaken by her.

She involved herself in maximum activities such as travelling all by herself, sports viz. golf, hockey, swimming, music and much more. She won the Golfer of the Year in 1993 at Willingdon Sports Club.

Presently she is a trustee of D.M. Girls Orphanage Trust and Wecan (Women's Empowerment Centre and Network), Mahim, Mumbai. This orphanage houses orphan girls from the age of 6 and up and provide education and other facilities to empower the girl child. Also trustee of the H.I.M.S Botawala Charities in Surat which runs a girls and boys school, a boys orphanage, a dispensary for free medical facilities and scholarships for the underprivileged.

On 25th August 2012 she won the award for Achievers of Excellence – Women Achievers in the field of Social Work. This award was presented to her by the Bombay Management Association along with N.L. Dalmia Institute of Management Studies and Research and FOSTIIMA – The Business School set up by IIM-A Alumni.

She launched her book on 20th of June, 2012 and since then has been invited to talk at different clubs. Willingdon Sports Club, Bombay Gymkhana, Time & Talent Club, two rotary clubs in Bangkok, IMC – Ladies Wing and on 4th December 2012 was invited by the Indian Women Association in Singapore where discussions were held and she talked about her book and the experiences she went through in her life. On 8th December 2012, she was at a Rotary Christmas party in Manila where she addressed 150 blind children with their parents. This was really a highlight of her talk as the parents were so inspired as she emphasized the importance of their attitude towards the child.

She was recently invited at Tata Literature Live Festival where a Panel discussion was held on "First Book Blues".

It is incredible that Miriam always has a smile to cheer others. She is a great inspiration to all, that self-pity can only cause pot hole full of sorrows. Instead she depicts an image of individuality in the competitive world conveying that, no matter what life holds for one, it should be taken in the spirit of challenge and in one's own stride.
InSight is an incredible story of one woman's refusal to let her handicap – visual impairment – dictate the terms of her life. She chose to take the road less travelled and created new ones where none existed.
It's only true commitment coupled with positive actions and powerful thoughts and 100% faith that bring about miracles. And miracles do happen! Miriam Batliwala is a living, breathing proof of that.
prof (dr) s. natarajan – Executive Chairman & Managing Director of Aditya Jyot Eye Hospital Pvt. Ltd.

Gifted with so many talents, she has used them to improve the lives of underpriviledged girls, and in the process made their lives and her very own, in the words of Mother Teresa, 'Something beautiful for God'.
father joe h. pereira – Founder & Managing Trustee of Kripa Foundation

I could have never imagined that someone who lost her vision at the age of twelve achieved so much – finished college, played the piano, travelled and lived abroad on her own, worked for the Indian Tea Board for four years, played golf, hockey and tennis, married and brought up a son – while trying to hide her disability from others! After reading this book I am truly inspired.
julio f. ribeiro – Former Commissioner of Police, Mumbai

She is a great role model for us all and her book is a gift to all those who read it!
shiamak davar – Founder and Artistic Director of Shiamak Davar Institute of Performing Arts
The Indo-American Arts Council is a 501 ©3 not-for-profit secular arts organization passionately dedicated to promoting, showcasing and building an awareness of artists of Indian origin in the performing arts, visual arts, literary arts and folk arts. For information please visit .