Passport to Contemporary Indian Art
PASS PORT TO CONTEMPORARY INDIAN ART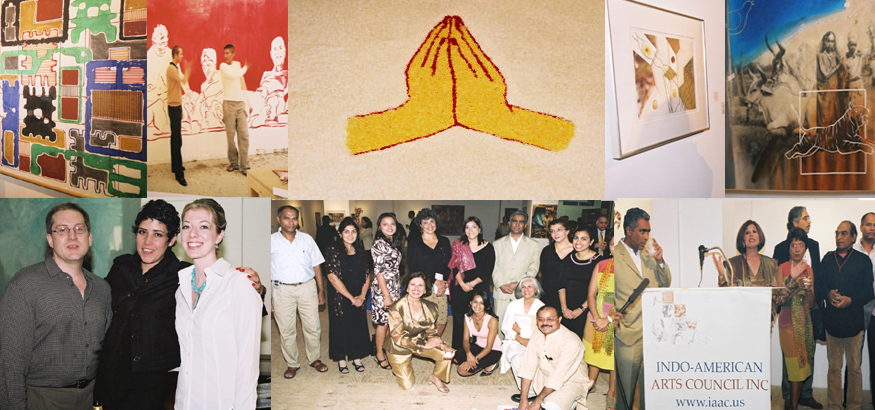 Informal Exhibition September 7-14, 2004
Opening Night September 15, 2004 6-9 p.m.
Exhibition open to public September 16-30, 2004 11 a.m. - 6:30 p.m.
Curator: Sundaram Tagore
September 7-30, 2004

GALLERY, 134WEST 29TH ST, 3RD FLOOR, NEW YORK CITY.
CALL FOR SUBMISSIONS

The Indo-American Arts Council is currently accepting submissions to the IAAC's "Passport to Contemporary Indian Art" in September 2004.
Contemporary Indian artists in the diaspora are encouraged to submit their portfolios of painting, sculpture, photography, digital art, installation art.


Requirements:

artists bio & statement
slides and/or prints of work
description of each work, size, and medium
self-addressed, stamped envelope for return of material (if requested by artist)
permission to print accepted work in exhibition catalogue
Deadline: July 10, 2004
Criteria:

artist must deliver and pick up artwork to and from the gallery
artist must have external insurance. (The gallery is insured but artwork is not insured enroute to and from the gallery)
artist must try and be present for the exhibition
artist must have approximately 12 images ready for the show
Information:

There will be a printed catalogue for this exhibition
Submissions will be chosen by an Independent curator
Sundaram Tagore, Sundaram Tagore Gallery will curate the accepted artwork for exhibition
Due to space restrictions, there will be a limited number of artworks exhibited
Artwork not chosen for this show will be kept for exhibition at a later date
Please note: all submissions must be recieved in hard copy. No email submissions will be considered.
Please send all submissions to:
Aroon Shivdasani, Executive Director,