A PERSONAL WAR: STORIES OF THE MUMBAI TERROR ATTACKS
BALANCING ACT PRODUCTIONS

Director / Writer: DIVYA PALAT
On 26/11/08, a group of highly trained terrorists declared war on the city of Mumbai. Seven ordinary people find themselves trapped in the midst of bomb blasts and gunfire.A Personal War tells the extraordinary story of these survivors.
August 15 at 9:15 pm
August 19th at 3 pm
August 20th at 11:30 pm
August 21st at 9 pm
August 22nd at 2:30 pm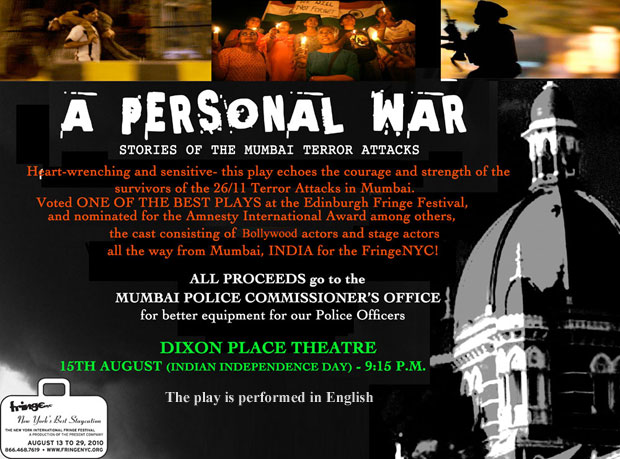 Length of performance: 1h 1m
Drama : Multi-Media
Cast: Aditya Hitkari, Vivan Bathena, Anuradha Menon,
Khushboo Hitkari,Vatsala Kothari, Sanket Mhatre & Divya Palat.
August 15th, 2010 at 9:15 pm
Online: https://www.123signup.com/register?id=mptdc .

Dixon Place Theatre, 161A Chrystie Street,
(between Rivington & Delancy)
New York, NY 10002.

Tickets: $18 general admission; $15 IAAC members with code.
Online: http://www.fringenyc.org/basic_page.php?ltr=P
The Indo-American Arts Council is a 501 ©3 not-for-profit arts organization passionately dedicated to promoting, showcasing and building an awareness of artists of Indian origin in the performing arts, visual arts, literary arts and folk arts. For information please visit

517 East 87th St, Suite 1B, New York, NY 10128.
.