The Indo-American Arts Council Inc,
Asia Society and Random House
are delighted to invite you to celebrate the publication of
Salman Rushdie's new novel
Shalimar The Clown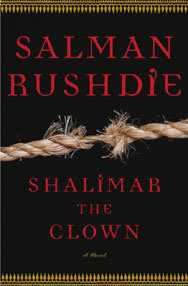 Friday, September 16th at 7:00 pm
At
Asia Society, 725 Park Avenue, New York, NY 10002.
Please join us for music; a book sale & signing; food and wine.
RSVP:
aroon@iaac.us or 212/529-2347
"Vintage Rushdie, in a sprawling story ripped from today's—and, undoubtedly, tomorrow's—
headlines. . . . A presumably political assassination that's in fact deeply 'personal,'
the separate histories of the disputed territories of Strasbourg and Kashmir, and the
classical Indian epic Ramayana are all ingeniously conflated and reimagined
in Rushdie's dazzling ninth novel. . . . Unforgettably dramatized, in
a magical-realist masterpiece that equals, and arguably surpasses,
the achievements of Midnight's Children, Shame and
The Moor's Last Sigh."—Kirkus Reviews
The Indo-American Arts Council is a not-for-profit arts organization passionately dedicated to showcasing Indian artists in performing, visual and literary arts in North America. We are delighted to celebrate the publication of Salman Rushdie's SHALIMAR THE CLOWN. Salman has been a long time supporter, friend and member of the IAAC Board of Advisors. We honoured him at our Annual IAAC Film Festival at the Lincoln Center, November 2005, for his wonderful continued support of the IAAC, as well as his superb contribution to Indian and world literature. For information on the IAAC, please visit .
The IAAC would like to thank the following for their support in presenting this party:
Suphala, Anjali Maniam, Amma Restaurant, Bilimoria Wines, Krait Beer, Asia Society, Random House, Incredible India.