Desipina & Company in association with The Indo-American Arts Council are excited to present: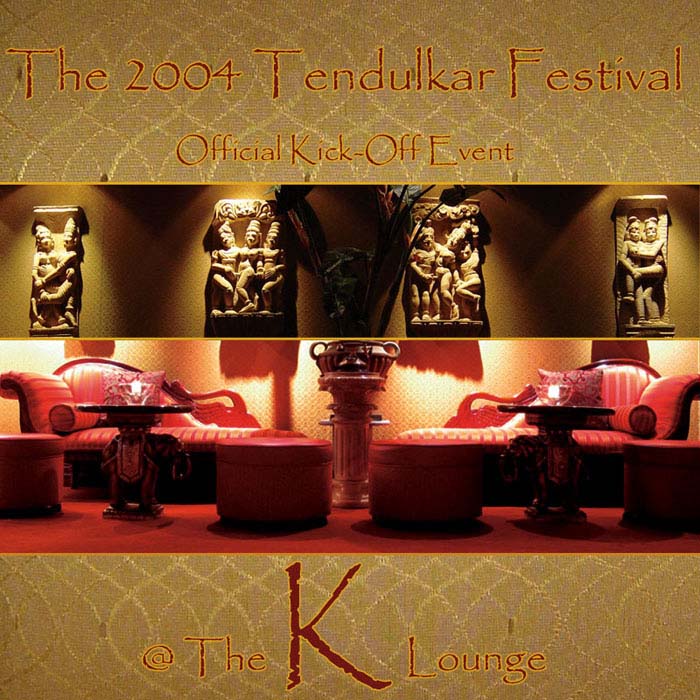 The 2004 Tendulkar Festival Official Kick-Off Event @ The K Lounge
Be entertained admist the lounge's plush seating and mellow vibe, where you will be presented with excerpts from the Desipina presentation in the IAAC Tendulkar Festival as well as other snippets from the Desipina fall season line-up. Alum Desipina artists involved include Vishakan Jeyakumar (Writer, 7.11 Franchised, Raj Against the Machine), Samrat Chakrabarti (Writer/Musical Lyricist, 7.11 Franchised, A Very Desi Christmas), Nandita Shenoy (Actor, 7.11 Convenience Theatre, Ensemble), plus many more familiar and new faces!
Don't miss out on this incredible line-up of performers! Or your chance to mingle with other Tendulkar fans! Or the opportunity to network and party for FREE! Put your name on the guest list today, to guarantee your admittance to the fun festivities precluding the Tendulkar festival!

ALTER EGO PRODUCTIONS' PRESENTS:
WHO'S AFRIAD OF VIJAY TENDULKAR?
A DRAMATIC COLLAGE
Written by Anuvab Pal and Shourin Roy
Directed by Anuvab Pal
Producer: Nilay Oza

Cast List:

Levitra Jaisingh - Deepa Purohit
Dr. Thelonius Grundle - Michael Gnat
Kamala, Sumitra, Laxmi - Gita Reddy Jaisingh, Bapu, Ghasiram Kotwal, Sakharam Binder - Rizwan Manji
Sarita/ Champa - Poorna Jagannathan
Servant- Priyanka Mathew
Dawood - Akshay
Nana - Gaurav Tejwani

Woman 1 - Puja Ogale
Woman 2 - Seema Malik

Audience 1 - Akshay
Audience 2 - Reshma Patel Audience 3 - Puloma Mukherjee
Coolie - Ranjit Gupte

Sign bearer/ Chorus - Vaishali Thubrikar.

Stage Directions: Anuvab Pal


---
TIME:
DATE: OCTOBER 5, 2004
LOCATION: K LOUNGE 30 W. 52ND STREET
PRICE: FREE!!!!
RSVPs required as space is limited rsvp@desipina.org