The Indo-American Arts Council
presents

The Blood Telegram: Nixon, Kissinger & a forgotten genocide
by
Gary Bass



Friday December 6th, 2013. 6-8 pm.


at


Aicon Gallery, 35 Great Jones St (bet Bowery & Lafayette), NYC.
PLEASE NOTE THE NEW VENUE

There will be a book reading, and signing by Gary Bass.
Books will be available for sale at the venue.

The event is free of charge. However, the courtesy of an rsvp is requested:
events.iaac@gmail.com

MEDIA who would like to interview Gary Bass and request a copy of his book, please connect with Michelle Somers: MSomers@randomhouse.com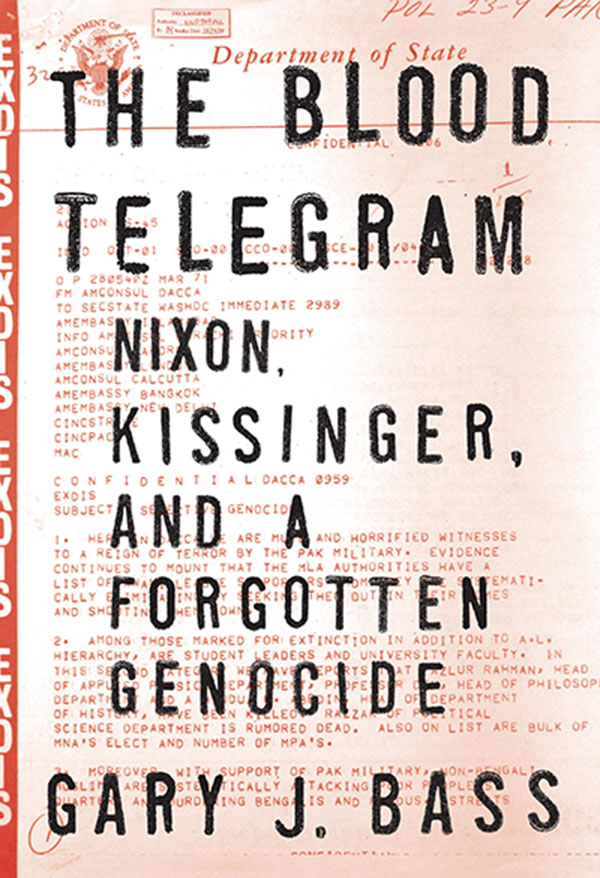 About the Book:

A riveting history - the first full account - of the involvement of Richard Nixon and Henry Kissinger in the 1971 atrocities in Bangladesh that led to war between India and Pakistan, shaped the fate of Asia, and left in their wake a host of major strategic consequences for the world today.

Giving an astonishing inside view of how the White House really works in a crisis, The Blood Telegram is an unprecedented chronicle of a pivotal but little-known chapter of the Cold War. Gary J. Bass shows how Nixon and Kissinger supported Pakistan's military dictatorship as it brutally quashed the results of a historic free election. The Pakistani army launched a crackdown on what was then East Pakistan (today an independent Bangladesh), killing hundreds of thousands of people and sending ten million refugees fleeing to India-one of the worst humanitarian crises of the twentieth century.

Nixon and Kissinger, unswayed by detailed warnings of genocide from American diplomats witnessing the bloodshed, stood behind Pakistan's military rulers. Driven not just by Cold War realpolitik but by a bitter personal dislike of India and its leader Indira Gandhi, Nixon and Kissinger actively helped the Pakistani government even as it careened toward a devastating war against India. They silenced American officials who dared to speak up, secretly encouraged China to mass troops on the Indian border, and illegally supplied weapons to the Pakistani military - an overlooked scandal that presages Watergate.

Drawing on previously unheard White House tapes, recently declassified documents, and extensive interviews with White House staffers and Indian military leaders, The Blood Telegram tells this thrilling, shadowy story in full. Bringing us into the drama of a crisis exploding into war, Bass follows reporters, consuls, and guerrilla warriors on the ground - from the desperate refugee camps to the most secretive conversations in the Oval Office.

Bass makes clear how the United States' embrace of the military dictatorship in Islamabad would mold Asia's destiny for decades, and confronts for the first time Nixon and Kissinger's hidden role in a tragedy that was far bloodier than Bosnia. This is a revelatory, compulsively readable work of politics, personalities, military confrontation, and Cold War brinksmanship.

About Gary J. Bass: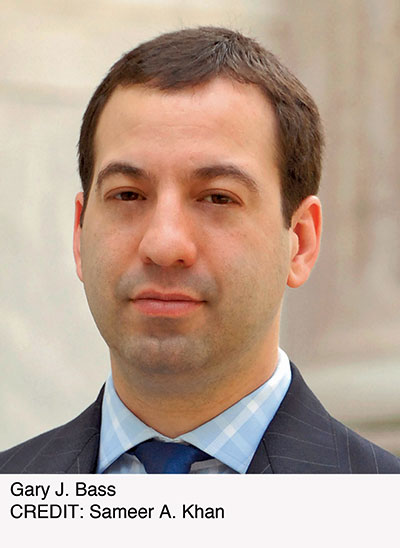 Gary J. Bass is the author of Freedom's Battle: The Origins of Humanitarian Intervention and Stay the Hand of Vengeance: The Politics of War Crimes Tribunals. He is a professor of politics and international affairs at Princeton University. A former reporter for The Economist, he has written often for the New York Times, and has also written for The New Yorker, theWashington Post, the Los Angeles Times, the Boston Globe, The New Republic, Foreign Affairs, Foreign Policy, Slate, and other publications.
Reviews:
"This is a dark and amazing tale, an essential reminder . . . Devastating . . . Shocking . . . Nixon and Kissinger spent the decades after leaving office burnishing their images as great statesmen. This book goes a long way in showing just how undeserved those reputations are."-Dexter Filkins, The New York Times Book Review

"[A] gripping and well-researched book . . . Sheds fresh light on a shameful moment in American foreign policy . . . Admirable clarity." -The Economist



"A profoundly disturbing account of the hitherto hidden role of Richard Nixon and Henry Kissinger in the slaughter of hundreds of thousands . . . Bass has defeated the attempted coverup through laborious culling of relevant sections of the Nixon White House tapes, declassified State Department documents and interviews with former officials, American and Indian, who were involved . . . After reading Bass's account of this shameful episode, one has to . . . conclude that where the Bengalis were concerned, Kissinger and Nixon simply did not give a damn."
-Neil Sheehan, The Washington Post

"Devastating . . . Excellent . . . Bass, a historian at Princeton, has written an account—learned, riveting, and eviscerating-of the delusions and the deceptions of Nixon and Kissinger. Steeped in the forensic skills of a professional academic historian, he also possesses the imaginative energies of a classical moralist, and he tells the story of the choices and the decisions that led to the slaughter in Bengal . . . appropriately as a moral saga . . . Indispensable." -Sunil Khilnani, The New Republic

Bass' portrayal of events as they unfold is kaleidoscopic. He allows the reader a glimpse into the inner workings of the Nixon White House besotted with the prospect of opening the doors to China; the sordid realities of the Pakistan Army as it singled out Hindus in particular and unleashed the terror that led to about 10 million refugees flooding into neighbouring India; the "cloak and dagger exercise in Pakistan arranging the trip (to China)" which prompted Kissinger to say, "Yahya hasn't had such fun since the last Hindu massacre!" - Meera Kumar, Gateway House:Indian Council for Global Relations
The Indo-American Arts Council is a 501 ©3 not-for-profit secular arts organization passionately dedicated to promoting, showcasing and building an awareness of artists of Indian origin in the performing arts, visual arts, literary arts and folk arts. For information please visit .

All donations to the IAAC are tax-deductible to the fullest extent allowable by law