Indo-American Arts Council: Erasing Borders 2008
Exhibition of Contemporary Indian Art of the Diaspora
HAMMOND MUSEUM, NORTH SALEM, NY.

Opening Reception:
Saturday June 14, 2008; 1- 4 PM

Ghazals by Marina Alam

Rangoli, mehndi, crafts for the children.

Hammond Museum and Japanese Stroll Garden
PO Box 326 | 28 Deveau Rd
North Salem, NY 10560

914.669. 5033

DIRECTIONS TO THE HAMMOND MUSEUM: click here
By CAR: click here
By public transport: From Manhattan: Grand Central - Metro North Division to
Croton Falls, then get a taxi to the Museum.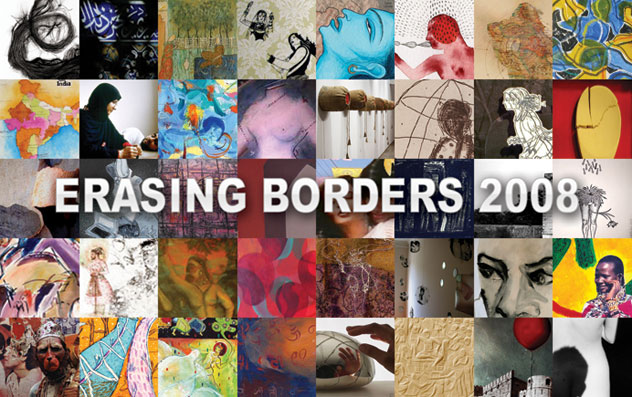 IAAC ERASING BORDERS 2008

EXHIBITION OF CONTEMPORARY INDIAN ART IN THE DIASPORA
Participating artists: Amina Ahmed, Fariba Alam, Salma Arastu, Shelly Bahl, Siona Benjamin, Anna Bhushan, Bushra Chaudry, Bivas Chaudhuri, Nandini Chirimar, Mareena Waheeda Daredia, Delna Dastur, Vinod Dave,
Anindita Dutta, Anujan Ezhikode, Indrani Nayar-Gall, Asha Ganpat, Arvind Garg, Mumtaz Hussain, Satish Joshi,
Reeta Karmarkar, Swati Khurana, Vijay Kumar, Srinivas Kuruganti, Samanta Batra Mehta, Alakananda Mukerji, Pratima Naithani, Veru Narula, Kuzana Ogg, Antonio Puri, Niema Khan Qureshi, Alka Raghuram,
Sukanya Rahman, Chirag Rana, Tara Sabharwal, Ela Shah, Reuben Sinha, Anjali Srinivasan,
Suhas Tavkar, Prince Varughese Thomas, Yetish Yetish
Curated by Vijay Kumar. Assisted by IAAC Director of Exhibitions Amina Ahmed.

The Indo-American Arts Council is a 501 ©3 not-for-profit arts organization passionately dedicated to promoting, showcasing and building an awareness of South Asian artists in the performing arts, visual arts, literary arts and folk arts. For information please visit

, 146West 29th St, Suite 7R3, New York, NY 10001.
.

Gallery Directions