Masala Bhangra Workout: May 31, 2006
SARINA JAIN - FOUNDER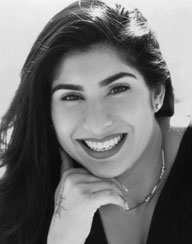 One of the fitness industry's stars, Sarina Jain is the founder and creator of the MASALA BHANGRA WORKOUT™. Sarina Jain is an irresistibly energetic fitness personality and choreographer who has pioneered the introduction of Indian bhangra dance to the forefront of fitness with her series of unique and intense workouts. Sarina Jain has been a certified fitness instructor for 15+ years - teaching a range of classes, including step, kickboxing, cycling, total body conditioning, high/low impact aerobics, and cardio salsa. She has also successfully created dance routines for music videos, commercials, cultural festivals and concerts utilizing her knowledge of Bhangra, Bollywood dancing, Indian classical dance, salsa, hip-hop, and other dance forms. Sarina Jain now has a one hour Masala Bhangra Workout fitness show on Discovery Channel's Fit TV, part of All Star Workout.

After completing her studies in marketing and public relations, she launched her own company, Masala Dance & Fitness, Inc., in January 1999. Since then, Sarina has successfully directed and produced a series of MASALA BHANGRA WORKOUT™ videos and relocated to New York to successfully cultivate a larger audience for Masala Bhangra. She has been recognized as the "Indian Jane Fonda", being the first South Asian fitness icon to introduce Indian dance to fitness enthusiasts everywhere, and make major headlines in news media in the US and throughout the world. "When I entered into the fitness industry, Jane Fonda was a notable fitness icon," says Sarina. "She had her own workouts and her own videos, and I wanted to emulate her success. When my students started saying I was like an 'Indian Jane Fonda', it was the biggest compliment for me." Masala Bhangra Workout is now officially AFAA certified.

Sarina continues to lead MASALA BHANGRA WORKOUT™ classes all over the world, including regular classes at major health clubs in New York and San Francisco. She has captured the attention of dance and fitness enthusiasts all over the world through numerous national and international appearances - electrifying the stage with her unique style, vivacious personality, and trademark energy. She is the resident "Fitness Guru" for the British Broadcasting Company (BBC) Asian Radio Network and can be heard in live broadcasts monthly. A resident of New York and California, Sarina is an active member of the Indian-American communities on both coasts of the United States. Born in the United States, Sarina proudly embraces her Indian heritage.

On her perspective of the modern bhangra phenomenon, Sarina states, "People fall in love with the beat of Bhangra - the beat of the dhol drum, combined with sensuous, strong movements generates so much excitement. Bhangra is a celebratory music and dance form. It's joyful, it offers great music, and people have so much fun they don't realize they are getting an awesome cardiovascular and muscle strengthening workout. Bringing the MASALA BHANGRA WORKOUT™ to people all over the world is so gratifying - I am absolutely living my dream.