The Indo-American Arts Council
presents

Bina Ramani's
"Bird in a Banyan Tree" book launch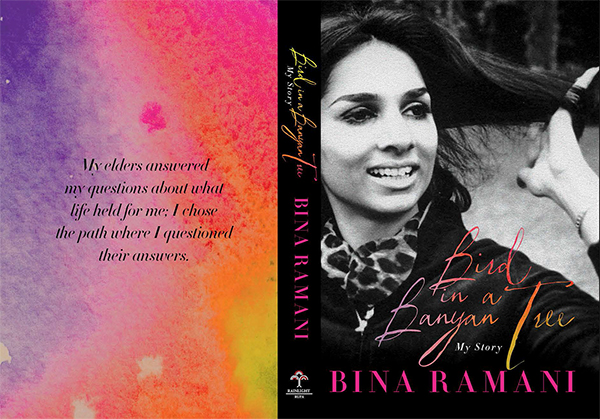 Book Reading, sale and signing.
TV personality Nina Griscom will converse with Bina Ramani after the Reading.
July 9, 2014, 7-9 p.m.


at


Aicon Gallery, 35 Great Jones street, New York, NY 10012
Cost of book: $20


Please rsvp: events.iaac@gmail.com
ABOUT BINA RAMANI:

Fashion designer, entrepreneur, restaurateur, agony aunt, social worker, socialite, visionary - these are among the many labels which have been applied to Bina Ramani. But what is the real story behind these labels?

From arriving as a refugee kid in India during partition to having Binatone, a successful international electronics brand named after her; from a nine year old sitting on her favorite black rock watching waves and weaving dreams in Mumbai to a passionate romance with screen idol Shammi Kapoor; from a loveless arranged marriage and bitter divorce to opening her own stores in India and the USA; from changing the face of Hauz Khas Village and re-defining it into a chic hub for Delhi's glitterati; to searching for her daughters in a life threatening journey across continents. form being taken into police custody and sent to Tihar jail for being a stubbornly honest witness, and being vilified by the media. to being lauded by the country for her heroic role in the Jessica Lal murder case; from pioneering innovative ways of helping marginalized societies to having Richard Gere come together with Bollywood stars and top designers to co-host the first Aids awareness project in India; Bina tells it all in this no-holds-barred memoir!

Bina now lives between Delhi and Goa and is working on her second book. She is a social activist and works with women and children issues, particularly with victims of rape.
REVIEWS:
A tumultuous life lived in unrelenting glare of controversy and publicity and the central figure In the sensational Jessica Lal murder case. Bina puts the record straight with rare candor in this fast paced autobiography. An excellent read! . . .Business Standard

. . . Bina's prose is lively and descriptive . . . .it takes you behind closed doors into lives of famous people, minds of criminals behind prison walls and touching relationships with village dwellers . . . . A must read! Libaas magazine

. . . Honest and captivating . . It not only singes you but also shines plenty of light into dark Spaces you thought you had forgotten! India Today

. . .even fiction takes a beating in Bina Ramani's colourful life. The Pioneer.

If this book were a movie and if it had a soundtrack it could easily be the John Lennon song, Blackbird.
"Fix these broken wings and learn to fly
All your life
You were only waiting for this moment to arrive."
Bina's book is both plaintive and painful, joyous and optimistic. It swoops and soars with swift and steep descents only to lift off again: "Into the light of the dark black night." AN EXTREMELY ENGAGING READ, Belle McIntyre for Amazon.com
The Indo-American Arts Council is a 501 3 not-for-profit secular arts organization passionately dedicated to promoting, showcasing and building an awareness of artists of Indian origin in the performing arts, visual arts, literary arts and folk arts. For information please visit .