EnGendered, a 3-day multi-disciplinary arts festival hosted at NY's most prestigious arts venue, Lincoln Center. 'Engendered' is an unprecedented festival that brings together performance, dance, theater, film and the visual arts to explore the complex realities of gender and sexuality in modern South Asia. The festival is designed not only to raise awareness, but also act as a fulcrum to enter public dialogue, break silences and impact perceptions around issues of gendered identities, stereotyping, bias and sexual choice and further, how those issues relate to human rights, health rights and women's rights. The festival features an incredibly wide and impressive array of artists, academics and activists in an imaginative assemblage of events ranging from urban popular culture to neo/classical and folk arts. Highlights of the featured work includes classical artists from the Orissa Dance Academy, contemporary dance work, indigenous folk art such as Mithila Paintings to serve social commentaries on gender roles & practices like female infanticide, dowry deaths etc, contemporary visual and installation artists like Ruby Chisti & Molly Gochman, spoken word artists from the Diaspora including Sarah Hussain (author of Voices of Resistance – Islamic women on identity, body & War) & Shailja Patel; feminist dance theater from the likes of Aparna Sindhoor; transgendered performances in the rich tradition of 'Stri Vesham' from South India, noted women writers like Bharati Mukherjee & Tasleema Nasreen film by Mira Nair, Rituparno Ghosh and academics like Urvashi Vaid, Dr. Alka Pande & Shohini Ghosh.

Engendered seeks to provide artists with an invigorating space of exchange in which the creative process itself is explored. As such, it is the first festival of its kind that besides being a public forum is also an interdisciplinary space where the performers are able to engage each other in dialogue. Engender describes the perpetual tension of cultural purity in an age of hybrid identities. By fashioning a democratic environment that cultivates creative dialogue and maximizes participation of the performer, the festival brings together different levels of conversations around gender and sexuality. The festival will showcase a wide variety of events, including film screenings, an art exhibition, dance performances, plenary discussions, Q & A sessions, art talks, and a workshop by women's human rights organizations.

ENGENDERED is presented by the Nayikas Dance Theater Co. in association with partners Indo American Arts Council & India Abroad. The festival is organized and curated by Myna Mukherjee, Artistic Director of Nayikas. 'Pardah', the visual arts exhibition is organized with the help of Chitra Prasad Patel, an invited curator for the exhibition.

Venue

There will be four locations within Lincoln Center where ENGENDERED events will take place: the Allen Room at The Jazz at Lincoln Center, the Atrium adjacent to the Allen Room in the Time Warner Building, Bruno Walter Auditorium and Lobby, and Vincent Astor Gallery. The Allen Room of Jazz at Lincoln Center is a magnificent gathering space where expansive windows bring spectacular views of Manhattan within the interior of the auditorium. This is a celebrated venue whose prestige reflects the milieu of the festival, calling to mind the great performances and historical names that have imprinted Lincoln Center as the world's cultural epicenter. The lobby of the Jazz at Lincoln Center in the Time Warner Building and the Atrium is a public space in one of Manhattan's highly recognizable tourist destinations. The Atrium assures that visitors and passers-by will take notice of the visible display materials.

Audience

Based on previous sold-out events presented by Nayikas and IAAC, attendance is expected to exceed
5,000. Additional contributing factors include:
Distinguished participants
Prominent venues
Various genres and forms of art
Duration of festival and multiple timings

The festival will reach four population segments:

Art enthusiasts and academicians - The multi-faceted festival will attract enthusiasts of many genres: dance, literature, film, and visual arts. The panel discussions and Q & A sessions appeal to an academic audience. All of the notable participants bring their respective audiences to the event.

South Asians living in the US (tri-state area) - This segment consists of the South Asian population base of New York, New Jersey, and Connecticut. Largely affluent and professional, the festival will be heavily promoted in the South Asian communities of these areas through South Asian publications and media promotions. The festival invite alone will be sent to 5,000 South Asians who have attended previous South Asian art events.

Indians living in India - Publicity initiatives will be taken as far as India, with Indian TV promotions and
publications already confirming art exhibition reviews and festival listings.

Visitors and tourists to Lincoln Center & Time Warner Building - As the world's leading performance art center, the Lincoln Center campus holds 22 venues for cultural and educational programs. One of the great sightseeing destinations in New York, Lincoln Center is easily accessible to tourists, who after attending this festival will carry their experiences of this exhibit around the globe with them.

Film:

The festival will screen a wide number of films both mainstream as well as alternative touching upon the different facets of the gender and sexuality world. The films range from the politics of a polygamous household, personal journeys of individuals with alternate sexuality, sex workers & rights, the AIDS epidemic, educational rights for women etc. Proposed films include:
Rituparno Ghosh: "Antarmahal"
Mira Nair: "India Cabaret", "Aids Jaago"
Sonali Gulati: "Out & About" (Trailer)
Shohini Ghosh: "Tale of the Night Fairies "
Harjant Gill: "Milind Soman Made Me Gay"
Priya Sen: " About Elsewhere"
Performances: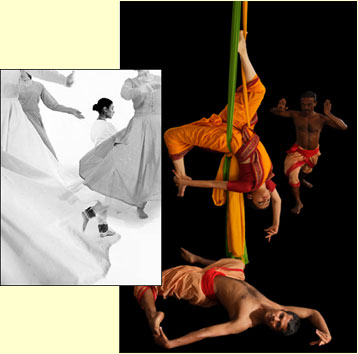 Featuring over 15 distinguished artists from India & at least 20 artists from the Diaspora. Range of work includes Classical, neo classical, folk and martial art based Dance Theater, contemporary & modern dance, spoken word & media raps. Curated performances explore gender construction, their roles and transgressions, image principles, alternate sexuality and feminine divinity.


Visual Art:

The visual arts exhibition brings together artists whose works address the many dimensions of gender and sexuality issues in modern South Asia, including issues surrounding the constraints of women in rural areas, sexual choice, and the pardah system. The multitude of works includes traditional/folk art, contemporary paintings and prints, pop/calendar posters, photographs, digital art, and sculptural installation. Evocative and spirited, the exhibition is designed to examine how South Asian women and men have been influenced by gender constructions, thereby promoting powerful dialogue through audience engagement and response.

Some Other Participants and Speakers

Rituparno Ghosh: Acclaimed Bengali film director, Rituparno Ghosh has been referred to as the heir to legendary filmmaker Satyajit Ray. He has directed and written screenplays for eleven films, all but one in Bengali. His works include Unishe April, Dahan, Bariwali, Shubho Mahurat, Chokher Bali, AntarMahal and Raincoat. He is renowned for making films are that are particularly sensitive and reflective of women & their roles in India. His movies have been screened at several Human Rights festivals internationally and 'Chokher Bali' was also nominated for the Golden Leopard at the Locarno International Film Festival. His film 'Antarmahal' selected as the closing night film for Engendered deals with the politics of a polygamous household against the backdrop of a rural colonial India steeped in an air of stultifying religiosity.

Bharati Mukherjee: author and professor of English at the University of California, Berkeley, is well known both as a writer of fiction and as a social commentator. Mukherjee earned a Ph.D. in English and comparative literature from the University of Iowa in 1969. In the '70s, she taught at McGill University, Montreal, Canada. She moved to the United States in 1980, taught at various colleges, and has been teaching at the University of California, Berkeley, since 1989. Much of her writing chronicles various facets of the immigrant experience. "Mukherjee has established herself as a powerful member of the American literary scene, one whose most memorable works reflect her pride in her Indian heritage, but also her celebration of embracing America.

Dr Alka Pande: currently Curator, Visual Arts Gallery, India Habitat Centre, has been responsible for curating some of Delhi's most unusual and perceptive shows in recent times. Dr Pande has also been a Visiting Faculty for Aesthetics at the College of Art as well as Reader, Department of Fine Arts, Punjab University, Chandigarh, with a range of academic papers and lectures on diverse aspects of the arts to her credit. She has authored several books on art and art history, and has a special interest in ancient Indian erotic literature and art as well as gender and sexuality.

Shohini Ghosh: is Associate Professor of, Video and Television Production at the AJK Mass Communication Research Centre, Jamia Millia Islamia (Central University) New Delhi. As Visiting Associate Professor (1990-1996) at the Department of Communication, Cornell University, USA, she has taught courses on Gender, Media and Representation and Video for Development and Social Intervention. She has conducted training workshops on gender and the media for different organizations in India and Bangladesh including UNICEF, Dhaka. Ghosh worked as director / producer of educational films for the University Grants Commission (UGC) countrywide classroom, and as an independent documentary filmmaker. A major part of Ghosh's current work involves theoretical interventions in public debates around issues of sexuality, speech and censorship. Ghosh writes extensively on popular culture and the media for both academic journals
and the popular press. As Globalization-McArthur Fellow at the University of Chicago (April-June 2001) Ghosh worked on a series of essays on the nineties mediascape in India.