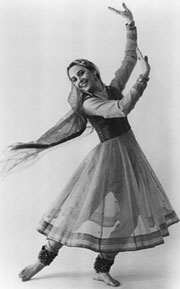 Janaki Patrik has been trained in classical north Indian Kathak by Padma Vibhushan Pandit Birju Maharaj. Her dance company, The Kathak Ensemble & Friends, celebrated its 25th anniversary in 2003. With live musical accompaniment the Ensemble performs classical Kathak as well as productions which illuminate Indian culture in relation to American art forms, at venues including Carnegie Hall, the Smithsonian Institute and Lincoln Center. Janaki's training in western classical flute, Merce Cunningham modern dance technique, Kirov school ballet and her study of Russian, Hindi and Sanskrit languages and literature contribute to her choreography and its commissioned musical settings.The Ensemble's arts-in-education unit, CARAVAN, performs and teaches throughout the New York-New Jersey-Connecticut area. Janaki teaches Lucknow Gharana/style Kathak is private and small group classes in Manhattan. www.kathakensemble.com

Steve Gorn, whose flute is featured on the 2004 Academy Award winning Documentary film, Born into Brothels, has performed Indian Classical Music and new American Music on the bansuri bamboo flute, soprano saxophone and clarinet in concerts and festivals throughout the world. His teachers include Sri Gour Goswami of Kolkata, and Pandit Raghunath Seth, and he performs regularly with Pandit Samir Chatterjee and Pandit Barun Kumar Pal. Well known to audiences in India and the west, he has been praised by critics and leading Indian musicians as one of the few westerners recognized to have captured the subtlety and beauty of Indian music. As an innovator in the field of contemporary world music, he is featured on Paul Simon's CD, You're The One,and has toured and recorded with Jack DeJohnette, Tony Levin, Glen Velez, Krishna Das, Alessandra Belloni, and Layne Redmond. His most recent recordings, Colors of the Mind, and Priyageeta.are available at www.SteveGorn.com

Pandit Ramesh Misra, master of the thirty-seven-stringed Indian sarangi, has accompanied all major dancers, vocalists and tabla players of North India for over three decades in concerts and festivals throughout the world. He continues to tour world-wide. Recipient of the 1992 Sangeet Akademi (Indian National Academy of the Arts) Award for his contributions to Hindustani music and the preservation of the endangered tradition of sarangi playing, Pandit Ramesh Misra is the son and disciple of the late Pandit Ramnath Misra. He also studied the Benaras style with the late Pandit Gopal Misra and Pandit Hanuman Prasad Misra, and has continued his studies of raga with lengendary sitarist Pandit Ravi Shankar for over ten years. Pandit Ramesh Misra resides in New York City, where he teaches sarangi to students including his son Rohan Misra. www.rameshmisra.com

Nitin Mitta is one of the prominent young tabla players from India. Now a resident of New York City, Nitin has given many solo tabla performances since his first solo tabla at the age of ten. Trained by Pandit G. Satyanarayana and Pandit Arvind Mulgaonkar, both of the Farukhabad Gharana, Nitin has matured into a tabla player of rare technical virtuosity and sensitivity. He has performed worldwide with some of India's most celebrated musicians, including Pandit Jasraj and Pt. Vishwa Mohan Bhatt. Nitin's accompaniment – at once dexterous, supportive and spontaneously inventive - combined with the rich repertoire that he has inherited from his guru-s, and the inspiration that he draws from his peers has won him the admiration of music lovers and connoisseurs at an international level. www.nitinmitta.org

Aarati Ramanand started her training in Bharathanatyam, Mohiniattam, and Carnatic Music at age of four. She is trained by her mother, the illustrious singer Saavitri Ramanand in the Musiri "Bani" (style) of Carnatic Music. In dance, she has trained under the legendary Kalaimamamani K. J. Sarasa. She has performed on many prestigious stages in India, including the Krishna Gana Sabha, The Music Academy and the Indian Fine Arts Society in Chennai. In New York, she has had the privilege of coming under the guidance of the renowned dancer Swati Bhise, with whom she has performed at Lincoln Center of Performing Arts and the American Museum of Natural History.

Sowmya Viswanath studied Bharatanatyam with Padmashree Guru Srimati Narmada in Bangalore, India, for over fourteen years. Following her arangetram (formal Bharatanatyam performance debut) in 1995, she has given many dance recitals and is the recipient of the Karnataka state award in dance at the senior level. She is also a Doordarshan artist, performing on India's national TV station. Sowmya has recently begun studying Kathak from Janaki Patrik. She is a technology associate at Morgan Stanley in NYC.