Press Release

Photos

Reviews

Anita Ratnam

Rajika Puri

Swati Bhise

Janaki Patrik

Dancers with a Difference: Monday March 6, 2006
RAJIKA PURI (Odissi Dance), with STEVE GORN (bansuri: North Indian bamboo flute).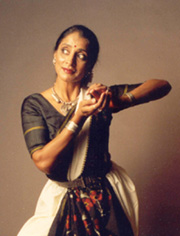 Love Song of the Dark Lord -
Rajika presents a collage of verses from Jayadeva's 13th C epic - Gita Govinda – capturing with mime, hand gesture and full body movements the arc of the romance between the adolescent Krishna and Radha, wife of 'another'. The text - in both English and Sanskrit - is sung, chanted, and spoken by the performer herself as she dances.



ODISSI:

a solo dance-theater form which originated in the temples of Orissa, where it used to be performed by maharis (women dedicated to temple service). The body moves sinuously in and out of the 's'-curved poses seen in temple sculpture as the dancer sometimes expresses drum rhythms and melody and at others interprets - through mime and hand gesture - the verses of a song. The center-piece of a traditional Odissi recital is the interpretation of a love poem addressed to Krishna, Jagannath ('Lord of the World').

BIO:
RAJIKA PURI

, an exponent of Bharatanatyam and Odissi, has performed in solo recital throughout the US, Latin America, Europe and India. She currently focuses on works which expand the scope of traditional performing arts. For example, she choreographs to different kinds of music – flamenco, American song, western classical - and develops danced stories in which she herself sings, chants and narrates texts - in English and in Sanskrit – to accompany her movements.

Since she was cast by Julie Taymor in The Transposed Heads (Lincoln Center Theater), Rajika is also active on the western stage and has participated in several of IAAC's play-reading festivals. Her film-work includes Mira Nair's Mississippi Masala and Deb Benegal's Split Wide Open (screend at IAAC Indian Diaspora Festival, 2002)
(www.rajikapuri.com)




STEVE GORN


whose flute is featured on the 2004 Academy Award winning Documentary film,

Born into Brothels

, has performed Indian Classical Music and new American Music on the bansuri bamboo flute, soprano saxophone and clarinet, in concerts and festivals throughout the world. His most recent recordings:

Colors of the Mind

, and

Priyageeta

and the jazz recording,

Winter Birds

, with the John Lindberg group featuring Susie Ibarra. (www.stevegorn.com)