INDO AMERICAN ARTS COUNCIL
presents
IAAC ERASING BORDERS 2011
EXHIBITION OF CONTEMPORARY INDIAN ART OF THE DIASPORA

Exhibition Starts:
September 19 - December 9, 2011
Jorgensen Gallery, Jorgensen Center for Performing Arts,
University of Connecticut, Storrs, Ct.

Panel Discussion: November 29th, 3:30 pm
Reception: November 29th, 6:00 pm

Featured Artist 2011: Natvar Bhavsar

Curated by Vijay Kumar

IAAC Director of Exhibitions: Tanu Jindal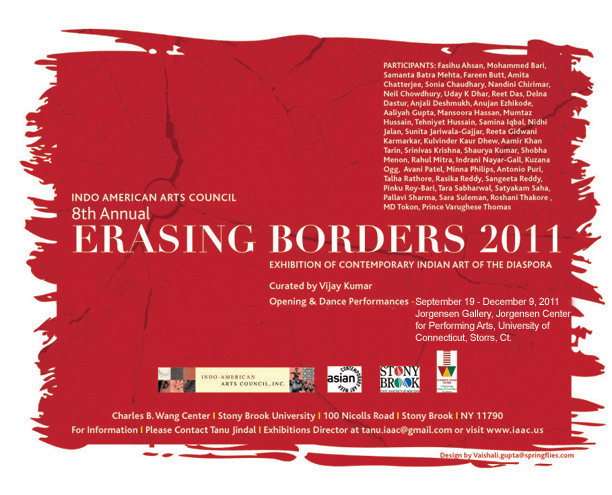 Erasing Borders is a richly provocative exhibition by artists of the Indian diaspora who confront issues of sexuality, terror, disease, the environment, racial and sectarian politics in painting, prints, installations, video, and sculpture. With great technical mastery and diversity of theme and style, these works combine traditional Indian aesthetics with Western elements, and speak to the powerful experience of personal and cultural dislocation in the global village. In its eighth year, Erasing Borders is curated by Vijay Kumar and produced by the Indo-American Arts Council. Free and open to the public.
Participating Artists: (Click on the artists name for details):
Fasihu Ahsan, Mohammed Bari, Samanta Batra Mehta, Fareen Butt, Amita Chatterjee, Sonia Chaudhary, Nandini Chirimar, Neil Chowdhury, Uday K Dhar, Reet Das, Delna Dastur, Anjali Deshmukh, Anujan Ezhikode, Aaliyah Gupta, Mansoora Hassan, Mumtaz Hussain, Tehniyet Hussain, Samina Iqbal, Nidhi Jalan, Sunita Jariwala-Gajjar, Reeta Gidwani - Karmarkar, Kulvinder Kaur Dhew, Aamir Khan Tarin , Srinivas Krishna, Shaurya Kumar, Shobha Menon, Rahul Mitra, Indrani Nayar-Gall, Kuzana Ogg, Avani Patel, Minna Philips, Antonio Puri, Talha Rathore, Rasika Reddy, Sangeeta Reddy, Pinku Roy-Bari, Tara Sabharwal, Satyakam Saha, Pallavi Sharma, Sara Suleman, Roshani Thakore ,MD Tokon, Prince Varughese Thomas
September 19 - December 9, 2011
Venue: Jorgensen Center for the Performing Arts
2132 Hillside Road, Unit 3104
University of Connecticut
Storrs, Connecticut 06269-3104

PLEASE RSVP: tanu.iaac@gmail.com