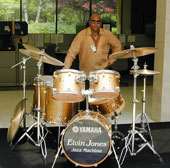 As the under current of music, the drum has always served as the lifeline of any instrumental composition it accompanies. Whether it is world music, hip-hop, R&B, or rock, drumming is the force that stirs emotion and creates magic. With that said, it is the responsibility of the drummer to produce a musical sensation that determines the direction. This is a task that world-renown percussionist Sivamani has embraced with all his might.
Sivamani's career as a musician began to grow as he was introduced to established drummers, notably Billy Cobham and Noel Grant. "I picked up a lot from them and improved my style," offers Sivamani. As Sivamani's career flourished, he composed scores for movies in India, a popular way of getting one's music heard on a larger level. For 30 years, Sivamani was devoted to the art of adding an instrumental component of the silver screen. All the while, he performed his solo pieces during various concerts and was well received by the people of India. As Sivamani's notoriety grew, he began doing his own concerts all over the world.
Having performed in Singapore, London, South Africa and New York, Sivamani has helped to spread the rhythm of India as well as other countries as he integrates drumming from Africa, Japan and India into his show. "People have been receptive because my music is like meditation," Sivamani says of his worldwide success. His show, which on any given day is backed by his own band Rhythm Asia or one of the bands he has jammed with, Silk - World Fusion Music, Shrida or Shankar & Ginger (Electric Double Violin), is a cathartic display of up beat pulsating rhythms. The explosive nature is unique in the way that Sivamani plays more than 100 instruments. An amazing sight to witness, this percussionist has been known to take his audience to Japan, Africa, Latin America, United States, India and back in just one sitting.
And those around him have flourished as well. He has worked with composer A. R. Rahman the composer of "Bombay Dreams" who's musical is now being staged by Andrew Lloyd Webber at the Apollo Theater in London and at the Broadway Theater in New York.
Having played with Steven Segal for his world music album, performed for Nelson Mandela in Cape Town when they converted the prison, Roben Island, into a museum, and accompanied Senegalese superstar Youssou N'Dour in jam and recording sessions, it will be no small feat for Sivamani to fully break into the US market.

And this Sivamani will do, simply by playing to the heartbeat of life . . .