SOIREE SERIES # 4 THEATRE:
with
PLAYWRIGHT-COMPOSER SAMRAT CHAKRABARTI & CO-WRITER SANJIV JHAVERI: BUMBUG THE MUSICAL
Beautiful home, delicious dinner paired with exquisite wine, conversation and theatre! An exclusive performance of Bumbug The Musical - an electrifying musical reinvention of "A Christmas Carol", told thru the looking glass of NYC Immigrants and Hyphenated America.
7-10 pm. Wednesday October 24, 2012
Anita Trehan's home in the Wall Street area.
Playwright-Composer Samrat Chakrabarti and Co-writer Sanjiv Jhaveri whirl you through a delightful performance of this hysterical, feel good, high energy rock musical that combines the angst and humor of shows like Rent &, Avenue Q with a dash of urbanite global flair. A New Sound for a New Era.The first Indian-American full length Musical: written, composed & performed by the Diaspora.
Limited reservations for this exclusive soiree. Maximum 30 people.
RSVP's to events.iaac@gmail.com must be accompanied by payment: $250 per person ($225 tax-deductible). IAAC Members $225 ($200 tax-deductible).
Please write a cheque to
Indo-American Arts Council,
517 E 87th Street, Suite 1B,
New York, NY 10128.
Or
pay via Paypal (using any credit card).


(your contribution includes an open bar, hors d'oeuvres, featured guest, dinner, tax deduction).
Your host's address will be emailed to you with an acknowledgement of your reservation.
Samrat Chakrabarti and

Sanjiv Jhaveri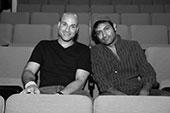 Samrat Chakrabarti (Composer-Playwright) holds a MFA in Acting from the A.R.T/ Moscow Art Theatre School Program at Harvard University. He has done dozens of Guest Stars and Recurring Roles on American TV shows including: 30 Rock (NBC), In Treatment (HBO), Damages (FX), Zero Hour (ABC), A Gifted Man (CBS), Bored To Death (HBO), Law and Order (NBC), The Sopranos (HBO) and All My Children (ABC). He has also been consistently working in films, both Hollywood and Independent, ranging from Spike Lee's She Hate Me to Amyn Kaderali's Kissing Cousins to Bruce Leddy's The Wedding Weekend to Joseph Castelo's The War Within. His international Projects include Deepa Mehta's film adaptation of Salman Rushdie's Midnight's Children, Manish Acharya's Loins of Punjab Presents (with legendary actress Shabana Azmi), Kamal Hassan's Vishwaroopam, Joseph Matthew's Bombay Summer and Italo Spinelli's Gangor (produced by RAI Cinema). Critics named Samrat Chakrabarti as one of the top six fresh faces to emerge from Toronto International Film Festival 2009, for his breakout performance as Krishna in Claire McCarthy's The Waiting City (with Hollywood actress Radha Mitchell).
Samrat is also an established Award Winning International musician, including: a U.S. CARA for Best Original Pop/Rock Song, for his composition, What's It all About. For more info on his works, visit http://www.imdb.com/name/nm1589782/.
Sanjiv Jhaveri (Co-Writer) is a veteran actor of TV, Film, and the Theatre. His film credits include: LOINS OF PUNJAB PRESENTS, where he played fashion designer Chris G, with scenes opposite the legendary Shabana Azmi; a leading role in WALKAWAY, Shailja Gupta's debut film. On television, he has played an array of memorable co-star roles LAW & ORDER, LAW & ORDER: Special Victims Unit, LAW & ORDER: Criminal Intent, CONVICTION, RESCUE ME, and 3 Pilots, "Drift", "Hate", and the Tim Robbins directed "Possible Side Effects". In the theatre, Sanjiv has worked at famed Regional Theatres such as Yale Rep, Washington D.C.'s award-winning Studio Theatre, and Missouri Rep. In New York City, he has worked in productions with The Play Company (Sakharam Binder), the Lark Theatre, Lincoln Center Directors' Lab, the Cherry Lane Theatre, and the Hypothetical Theatre Company. He directed the popular Desipina Production of "7-11", seven 11-minute plays set in a convenience store, in 2007. He has Co-Written 3 musicals for A Very Desi Christmas, Soonderella, and Who Killed Mr. Naidu First? A Very Desi Christmas grew into a full-length musical, BAKWAS BUMBUG, workshopped at the Wild Space in 2011. An accent/dialect coach, Sanjiv, has worked with Audible.com and Brilliance Audio. Some of the books that he has narrated are: CONFESSIONS OF A THUG, ALIF THE UNSEEN, THE TRUTH ABOUT ME, and Amitav Ghosh's RIVER OF SMOKE. For more info on his works, please visit http://www.imdb.com/name/nm1021678/.
The Indo-American Arts Council is a 501 ©3 not-for-profit secular arts organization passionately dedicated to promoting, showcasing and building an awareness of artists of Indian origin in the performing arts, visual arts, literary arts and folk arts. For information please visit .