present
GLOBAL RUNWAY'S NIGHT OUT

featuring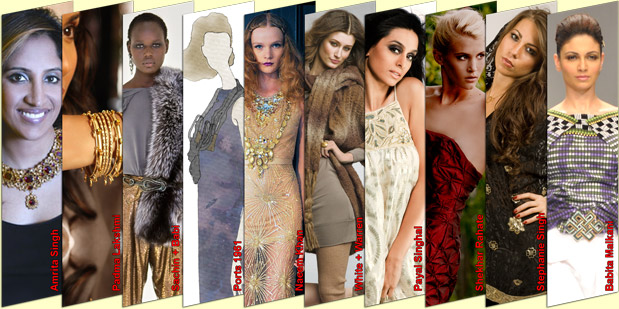 On

Thursday April 15, 2010 at 7pm
Venue:
The Paramount Hotel
235 West 46th Street, New York, NY 10036
(46th Street between 7th and 8th Avenue)
Phone: 212 764 5500
This one-of-a-kind star-studded fashion show brings together 10 global designers showcasing their latest collections - right off the runway. The Fashion Show will be followed by an exclusive afterparty with DJ Suhel and cash bar (at the Paramount Hotel bar) with designers, models, media and celebrities.

OPEN SEATING ALL EVENING!

Tickets:
$150
(includes Fashion Show, VIP seating w/designers & celebrities, light hors d'oevres, one drink free, afterparty, giftbag, $125 tax deductible)
$100
(includes Fashion Show, one drink free, afterparty, giftbag, $75 tax deductible)
For tickets:
http://www.123signup.com/register?id=mqbmb OR
Please send a check to IAAC:
517 East 87th Street, Suite 1B, New York, NY 10128.
The Indo-American Arts Council is a 501 ©3 not-for-profit arts organization passionately dedicated to promoting, showcasing and building an awareness of artists of Indian origin in the performing arts, visual arts, literary arts and folk arts. For information please visit
MISHA NICOLE: MISHA NICOLE is a women's retail concept store opening Fall 2010 in Soho, NYC. The Company is being established as the premier platform to showcase coveted designers that have strong brand recognition internationally but have no representation in the U.S. Our mission is to create a fresh, cultural and engaging shopping experience, in addition to featuring these fabulous emerging global brands. Our exclusive and fashion forward merchandise will effortlessly work back to well-established and compelling western brands, creating a cohesive, one-stop shopping experience for the customer who wants something chic and exceptional. MISHA NICOLE will also be hosting an array of events from the arts, music and fashion, to dance and film. MISHA NICOLE will be the place to go to be on the up and up of fashion and culture.
MISHA NICOLE Pop-Up store will be held on April 16, 2010. Be the first to purchase merchandise and get a taste of what's to come - visit www.mishanicole.com for details!

Paramount Hotel: One of the most fashionable Midtown boutique Manhattan hotels is The Paramount Hotel, centrally located in the heart of bustling Times Square. Completely renovated in 2009, The Paramount remains the consummate Times Square New York hotel, with easy access to the Broadway Theater District, Restaurant Row, upscale Madison and Fifth Avenue shopping, Penn Station, and the Jacob K. Javits Convention Center. The Paramount Hotel NY is located one-half block from Broadway on 46th Street — the perfect location if you are here to enjoy the best Broadway shows in New York City! Or a cocktail in the library bar or a sports game in 46 Bar.
For information please visit: www.nycparamount.com
About Peepul PR: Founded in April 2006, Peepul PR is a full service boutique agency dedicated to corporate consulting and lifestyle PR, with a passion for pushing the boundaries of typical public relations. Services range from product launches, brand awareness, corporate visibility, or events by leveraging each step of the communications cycle. Peepul PR's strength lie in its solid relationships, marketplace knowledge, distinctive modern writing style, personalized service, tailored strategies and highly tuned trend radar combined with a select roster of clients. Our experience and expertise includes practice areas such as Arts & Culture, Retail, Fashion, Hospitality, Food & Beverage, Luxury, Wellness and Consumer Goods.
For further information, please visit www.mypeepul.com