2nd Annual IAAC Literary Festival Closing Night:
Mira Nair & Sabrina Dhawan
in Conversation
FROM PAGE TO STAGE
Moderated by Henry Bean
Sunday October 25th, 2015. 7-9 pm
HUNTER COLLEGE, WEST BUILDING, SW CORNER OF LEXINGTON AVE
@ 68TH STREET
Post discussion Q&A and wine reception.

$35 general admission; $30 IAAC members; Hunter college students/faculty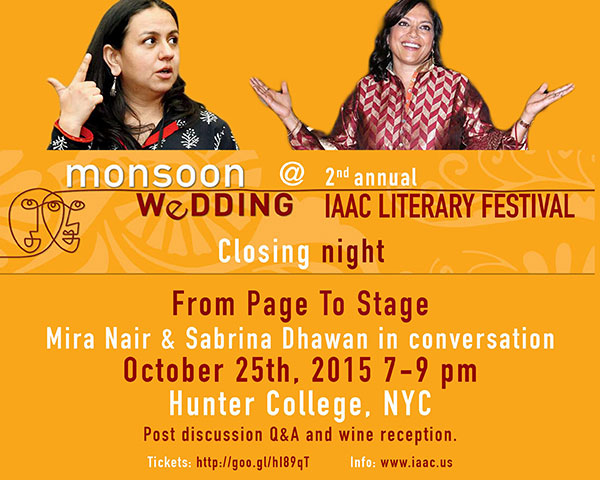 Mira Nair & Sabrina Dhawan in conversation: From Page to Stage
615 W, Hunter College, NYC
Moderated by Henry Bean
Post discussion Q&A and wine reception.

Filmmaker, screen-writer, producer Sabrina Dhawan made her screenwriting debut with Director Mira Nair's Monsoon Wedding which won the Leon D'Oro at the Venice Film Festival and received a Golden Globe nomination. She is now writing a script for the upcoming Stage Production of Mira's Monsoon Wedding. Mira and Sabrina will discuss the process of page to stage (and screen to stage!) as well as their amazing collaboration on both the film and the play.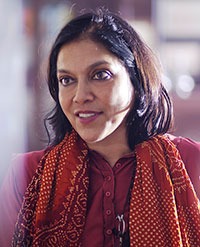 Mira Nair is the rare prolific filmmaker who fluidly moves between Hollywood and Independent Cinema. After several years of making documentary films, Mira Nair made a stunning entry onto the world stage with her debut feature film Salaam Bombay! (1988). Now hailed as a classic, the film has received more than 25 international awards including an Academy Award nomination for Best Foreign Language Film in 1988, the Caméra d'Or Award at the Cannes Film Festival. Her second film, Mississippi Masala (1991) won three awards at Venice. Since, Nair made films such as The Perez Family (1993), Kama Sutra: A Tale of Love (1996), My Own Country (1998), The Laughing Club of India (1999). In 2001, Monsoon Wedding won the Golden Lion at the 2001 Venice Film Festival, becoming one of the highest grossing foreign films of all time. Nair then directed the Golden Globe winning Hysterical Blindness (2002). After making William Makepeace Thackeray's epic Vanity Fair (2004), she directed a film based on Jhumpa Lahiri's best-selling novel The Namesake (2006). This was followed by the Amelia Earhart biopic, Amelia (2009) starring Hilary Swank and Richard Gere. In 2012 Nair directed The Reluctant Fundamentalist, a thriller based on the best-selling novel by Mohsin Hamid. It opened the 2012 Venice Film Festival to critical acclaim, and was released worldwide in early 2013.

She is currently directing the Disney production Queen of Katwe starring Lupita Nyong'o and David Oyelwo. The film is based on the true story of the Ugandan chess prodigy, Phiona Mutesi. She is also working on the musical adaptation of Monsoon Wedding, scheduled to open on Broadway in 2016.

In 1998, she used the profits from Salaam Bombay! to create Salaam Balak Trust which works with street children in India. In 2012, Mira Nair was awarded the Padma Bhushan - India's second highest civilian honor - by the President.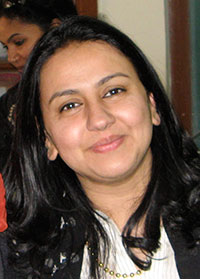 Sabrina Dhawan graduated from Columbia University's graduate film program in 2001 with her debut feature as screenwriter, Monsoon Wedding. Amongst other awards, it won the 'Leon D'Oro' at the Venice Film Festival and received a Golden Globe nomination. At Columbia, her student short Saanjh - As Night Falls won 'Best of the Festival' at the Palm Springs Film Festival; 'Most Original Film' from New Line Cinema, 'Audience Impact' Award at Angelus Awards, and was nominated for a Student Academy Award.

Sabrina's other produced screenplay credits include Kaminey, directed by Vishal Bharadwaj for UTV; Ishqiya, directed by Abhishek Chaubey, for Shemaroo. 11.9.01, directed by Nair for Canal Plus; Cosmopolitan for PBS; She served as co-producer on Bollywood Hero, a mini-series for IFC and as story consultant on Bharadwaj's Matru Ki Bijli Ka Mandola and wrote a documentary Greatest Love Story Ever Told to celebrate 100 years of Indian cinema for UTV and Shekhar Kapoor.

Sabrina is an Associate Professor at the Tisch School of the Arts, New York University. She has taught at filmmaking labs around the world, including Uganda, Tanzania, India, and the continental USA. Sabrina is currently working on a Broadway musical adaptation of the movie Monsoon Wedding and on a feature film, Rangoon co-written with Vishal Bharadwaj and Matthew Robbins. She was raised in Delhi and lives in New York City.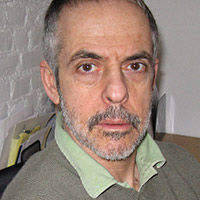 Henry Bean is a writer and filmmaker. His novel False Match won an LA Pen award in 1982. Recent stories have appeared in McSweeney's and Black Clock. The Believer, won the Grand Jury prize at the 2001 Sundance Film Festival. He lives in New York.
We need your help and have launched this Indiegogo Campaign: http://igg.me/at/IAAClitfest15/x/10917772. Please help and please spread the word to your lists, on your social media sites and anywhere else you deem fit!