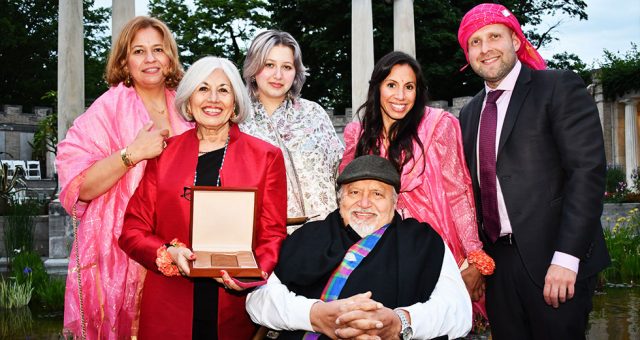 Sunset Soirée: Gala in a Mughal Garden
Sunset Soirée: Gala in a Mughal Garden
The Untermyer Gardens Conservancy presented its eleventh annual Sunset Soirée on Sunday, June 4, 2023. The theme of the sold-out event was Gala in a Mughal Garden, and it took place in the Walled Garden of Untermyer Gardens in Yonkers, New York. Based on the Taj Mahal in configuration, the Walled Garden is the finest Indo-Persian garden in the Western Hemisphere and has been called the most beautifully planted one in the world.
The elegant evening celebrated the garden's Indian heritage and saluted two leading members of the Indian-American community. The corporate honoree was Gurvinder Singh, CEO and co-founder of Indus Valley Partners, a global provider of innovative technology solutions and digital-first managed services to the investment industry.
The event was suffused with Indian cuisine, color, music, and Mughal style in a spectacular garden setting. The sounds of sitar and tabla filled the air as guests feasted on sumptuous Indian canapés prepared by Master chef Vicky Vij and Bukhara Grill. Vibrantly-colored safas were tied to order, and attendees were also offered bindhis and gharas made from fresh flowers. The gala was co-chaired by Ann Carmel, Heena Pai, Betsy Pinover Schiff, and Anita Trehan.
Dhan Pai, the event's corporate co-chair, introduced Mr. Singh and called attention to IVP's philanthropic commitment. "Along with building a great business, Gurvinder has not lost sight of the need to support the community in which his business and employees work.  In India, IVP's philanthropy is focused on children's education and health, with the organization supporting schools in many different regions within the country. In the U.S., IVP has supported youth-focused organizations, community food banks, and various healthcare and veterans groups. Their endeavors have also focused on sustainable development and the environment."
Mr. Pai further observed, "Gurvinder recognizes that sustainability and environmental security are important to ensure that the communities where the IVP staff live are not only safe, but provide open spaces in which to learn and enjoy. The Untermyer Gardens Conservancy has, over the past decade, worked tremendously hard to restore this wonderful garden and make it an oasis in Yonkers."
Mr. Singh spoke movingly of the Sikh concept of seva, a service that is performed without expectation of reward, which is a foundational principle of Sikh identity. He said, "The Untermyer Conservancy is a shining example of an organization that is giving back to community selflessly. The Conservancy has restored the garden to its former glory, and it is now a thriving public space open to anyone free of charge. The Conservancy's work is a true expression of seva. Its volunteers donate their time and energy to preserve and protect a beautiful public space that is enjoyed by people of all backgrounds."
The inaugural Minnie Untermyer Award, which recognizes excellence in the arts, was presented to Aroon Shivdasani, who fostered the career of countless Indian artists as founder and director of the Indo-American Arts Council. Minnie Untermyer was an influential patron of the arts and the wife of Samuel Untermyer, who built the gardens in 1916. Mrs. Untermyer was instrumental in bringing Gustave Mahler to lead the New York Philharmonic; she was the president of the Poetry Society of America; and she promoted the work of innovative artists, such as Isadora Duncan, whose dance company performed at Untermyer Gardens.
Heena Pai, a gala co-chair, introduced Ms. Shivdasani and recounted her many accomplishments. "Aroon is the founder and retired executive and artistic director of the Indo-American Arts Council. While at the helm of the IAAC for more than twenty years, Aroon pioneered a passionate movement to build awareness of artists and artistic disciplines from the Indian sub-continent, while simultaneously working to support important social and humanitarian causes in India and the U.S. She founded the first Indian film festival, the first Erasing Borders Festival of Indian Dance, the first Diaspora Playwrights Festival, the first Indian Literary Festival and the first travelling exhibition of Contemporary Indian Art of the Diaspora in the United States. Among her many accolades, Aroon was named one of the Top 20 Global Indian Women by the Economic Times a few years ago. She has been recognized for her "outstanding achievements and contribution to community empowerment" and has received an award for being a pioneer in bringing Indian arts and culture to America."
Located thirty minutes north of New York City and owned by the City of Yonkers, Untermyer Gardens was built a century ago by Samuel Untermyer, a pioneering lawyer and reformer, and designed by William Welles Bosworth, who earlier had designed Kykuit, the nearby Rockefeller estate. The Untermyer Gardens Conservancy has worked for twelve years to revitalize and improve the garden, which had been called the most spectacular garden in America before suffering decades of neglect. Today, it is one of the only major public gardens in the country that is free to all, with an annual audience of more than 125,000 visitors from all walks of life.
Honoree: Gurvinder Singh, CEO and Co-Founder, Indus Valley Partners 
After an early career with Sapient, where he assisted financial services firms to adapt to Internet technologies, Gurvinder co-founded IVP in 2000 as a niche-consulting firm focused on the capital markets industry, initially working with prime brokers. He has led IVP to its current size of more than 800+ employees across seven global offices. IVP serves more than 160 fund managers who administer more than $4 trillion in assets using IVP technology, digital-first managed services, and consulting services.
Minnie Untermyer Award: Aroon Shivdasani 
Aroon Shivdasani is the first recipient of the Minnie Untermyer Award, which recognizes an individual who represents excellence in the arts and embraces the multicultural spirit of an Indo-Persian garden. In her role as executive and artistic director of the Indo-American Arts Council in New York City for more than 20 years, Aroon championed Indian artistic disciplines and fostered the careers of countless artists, both emerging and established. Aroon is a devoted friend of Untermyer Gardens, and the Conservancy is proud to present her with this award.
For further information, please contact Cathy Michelsen, cmichelsen@untermyergardens.org or visit www.untermyergardens.org.
Mughal Gala 2023 photos by John Jacono:

Untermyer Garden background photos: