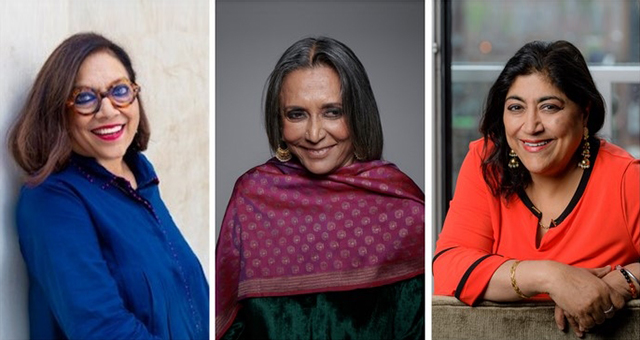 Three Iconic Directors: Gurinder Chadha, Deepa Mehta, and Mira Nair
The Bhenji Brigade: Viewpoints
In-person
Wed 11 Oct 2023  |  6:30 – 10 p.m.
725 Park Ave. (at 70th St.), New York, NY 10021
The in-person portion of this event is sold out. Stay tuned for information on how to register for the virtual livestream of the discussion. 
Join us for this Viewpoints program bringing together three iconic directors of world cinema: Mira Nair (Monsoon Wedding), Gurinder Chadha (Bend It Like Beckham), and Deepa Mehta (Water), in a conversation moderated by Aroon Shivdasani and Durba Mitra. All women of Punjabi background, this "Bhenji Brigade" has made significant contributions to film with their fierce creative visions, and represent a larger Indian diaspora from Canada, the UK and the United States.
The conversation will be followed by a reception in the Garden Court.
This event is presented by Asia Society and with support from Aroon Shivdasani, The Lakshmi Mittal and Family South Asia Institute at Harvard University, and Fempowerment Foundation. 
Viewpoints is an annual series in which prominent, visionary figures in the creative arts are interviewed on-stage before a public audience, about their work, career and relationship with Asia. Viewpoints has been made possible in part by the generous support of Aashish and Dinyar S. Devitre.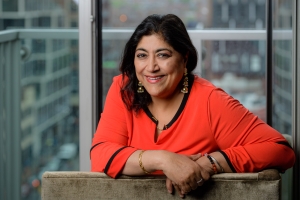 Gurinder Chadha is a proven and prolific U.K.-based filmmaker with an illustrious body of work over 30 years. She began her career as a broadcast journalist for BBC News and moved into directing with her first documentary I'm British, But… for Channel 4. Chadha's first feature, the landmark comedy-drama Bhaji On The Beach, which centered on the experiences of a group of Asian women from three generations on a day trip to Blackpool, received a BAFTA Award nomination for Best British Film and the Evening Standard British Film Award for Best Newcomer to British Cinema. Her iconic film Bend It Like Beckham was the highest-grossing British-financed, British-distributed film ever at the UK box office (at time of release) and topped box office charts internationally. The film received a Golden Globe nomination for Best Picture (Musical or Comedy), a BAFTA Award nomination for Best British Film, a European Film Academy nomination for Best Film, and a Writers Guild of America nomination for Best Original Screenplay. Her other hit films include Bride & Prejudice – a film that marries Jane Austen with Indian and Western musicals, the first film ever to open at #1 in the UK and India on the same day; Angus, Thongs and Perfect Snogging, based on the international bestseller; It's A Wonderful Afterlife, premiered at the Sundance Film Festival; and Viceroy's House, an epic drama on Indian Independence and Partition, starring Hugh Bonneville, Gillian Anderson, Om Puri and Huma Qureshi. Chadha has received several Honorary Doctorates from British Universities and was awarded an O.B.E. in the 2006 Queen's Birthday Honours List for her services to the British Film Industry.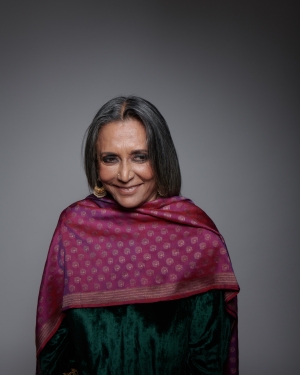 Deepa Mehta is an Oscar-nominated filmmaker whose work is internationally renowned. Her emotionally resonating, award-winning films have played at major film festivals, and been sold and distributed around the globe. Her fiction films include the Elemental Trilogy: Fire, Earth, and the Best Foreign Language Oscar nominee, Water; Bollywood/Hollywood, Heaven on Earth, the epic adaptation of Midnight's Children, Salman Rushdie's three-time Booker Prize winning novel; Beeba Boys, Anatomy of Violence, and most recently the award-winning Funny Boy, which was nominated for several Canadian Screen Awards and won for Best Director, Best Adapted Screenplay and Best Original Score. The film also picked up Best Picture and Best Supporting Performance Female at the 2021 Leo Awards. For the small screen, Mehta shot the pilot and second episode for the Netflix Original series, Leila, and is the Creative Executive Producer for the show. She also directed The Manager and Mr. Song, the pilot episodes of Little America's two seasons for Apple TV as well as the episode Bear Down for Showtime's critically acclaimed series Yellowjackets. Mehta's latest film I am Sirat, a documentary, is premiering at TIFF 2023, and will be in competition at BFI London Film Festival 2023, before opening in January 2024. Mehta is currently working on a feature film based on Avni Doshi's Booker Prize finalist novel Burnt Sugar. Frieda Pinto is attached to star and co-produce.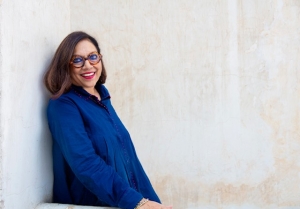 Academy-Award nominated film director Mira Nair is best known for her groundbreaking films that cross borders of all kinds: Salaam Bombay! (Caméra D'or, Cannes 1988), the pioneering Asian-African romance Mississippi Masala (1991), Golden Globe & Emmy-winning Hysterical Blindness (2001), and the international hit Monsoon Wedding (2001), for which she was the first woman to win Venice Film Festival's prestigious Golden Lion. Also known for her literary craftsmanship of subcontinental fiction, Mira has filmed The Namesake (2006), The Reluctant Fundamentalist (2012), Vanity Fair (2004), A Suitable Boy (2020) and Queen of Katwe (2016). Her next film will be AMRI, an experimental portrait of Amrita Sher-Gil. She returned to the theatre for her most recent endeavor, directing Monsoon Wedding the Musical, which opened in New York City at St Ann's Warehouse in May 2023 and is bound for Broadway. An activist by nature, Nair founded Salaam Balak Trust for Indian street children in 1988 and the Maisha Film Lab in 2004, a free school to train filmmakers in Africa.
Aroon Shivdasani is the Founder and retired Executive & Artistic Director of the Indo-American Arts Council (IAAC). Aroon pioneered a passionate movement to showcase, promote, give visibility, and build an awareness of performing, visual, literary, folk arts and artists from the Indian sub-continent as well as the diaspora, while simultaneously working to support important social and humanitarian causes in India and the U.S. She founded the first festivals of Indian Film (NYIFF), Indian dance (EB Dance), Diaspora Playwrights Festival, Indian Literary Festival and the first traveling Exhibition of Contemporary Indian Art of the Diaspora in the United States.  Among her numerous awards, in January 2015 Aroon was named one of the "top 20 Global Indian Women" by The Economic Times, India. In March 2018 she was honored by the Society of Foreign Consuls, New York, for her "outstanding achievements and contribution to Community Empowerment";  in July 2018 she received a Recognition Award honoring her for being "a pioneer of Indian Arts & Aesthetics in North America"  by the Consul General of India, New York, in 2019 The Heritage Center presented her with an award for "being a pioneer in bringing Indian arts and culture to America", and in 2020 Dr. Bilha Fish recognized her as one of 21 Inspiring American Immigrants in her book "Invincible Women"; on June 4th, 2023 Aroon received the Minni Untermeyer Award for Excellence in the Arts.
Durba Mitra is a scholar of women, gender, and sexuality studies in South Asia and the comparative colonial and postcolonial world at Harvard. Mitra's book, Indian Sex Life: Sexuality and the Colonial Origins of Modern Social Thought (Princeton University Press, 2020), demonstrates how ideas of deviant female sexuality became foundational to modern social thought in South Asia. It was recognized for scholarly achievement with the Bernard S. Cohn Book Prize from the Association of Asian Studies. Mitra's current book, The Future That Was, is under contract with Princeton University Press. The Future That Was explores the history of Third World feminist thought and South-South feminist solidarity. As part of her research for The Future That Was, Mitra is the curator of a multimedia exhibit, Solidarity! Transnational Feminisms Then and Now, on view through the end of October 2023 at the Poorvu Gallery at the Schlesinger Library on the History of Women in America. Mitra's work has been recognized with the 2021 Walter Channing Cabot Fellow Award for "distinguished accomplishments in the fields of literature, history, or art" from Harvard University. She is the recipient of the 2019 Roslyn Abramson Award for Excellence in Undergraduate Teaching at Harvard, which recognizes teachers for "excellence and sensitivity in teaching undergraduates" and the 2020 Star Family Prize for Excellence in Faculty Advising. Mitra was named a "Favorite Professor" for three years in a row by the Harvard College Classes of 2021, 2022 and 2023.
The Lakshmi Mittal and Family South Asia Institute at Harvard University (The Mittal Institute) was founded to further Harvard University's engagement with South Asia. The Mittal Institute engages in interdisciplinary research to advance and deepen the understanding of critical issues in South Asia and its relationship with the world. The Mittal Institute now serves as the premier center on regional studies, cross-disciplinary research, and innovative programming, pertaining to South Asia.
Fempowerment Foundation, "Empowering Women…one step at a time" is an organization founded by Kiren Srivastav and Ajay Shrivastav. Fempowerment Foundation serves as a microcosmic organization of global priorities focused on outcomes of social impact, sustainability, and environmental conservation, operationalized by the empowerment of socioeconomically disadvantaged populations. Based in India, they teach marketable life-skills to women from weaker economic strata to achieve self-sufficiency.