THIRD ANNUAL IAAC LITERARY FESTIVAL
NYU KIMMEL CENTER, 60 WASHINGTON SQUARE SOUTH, NYC
OCTOBER 7-9, 2016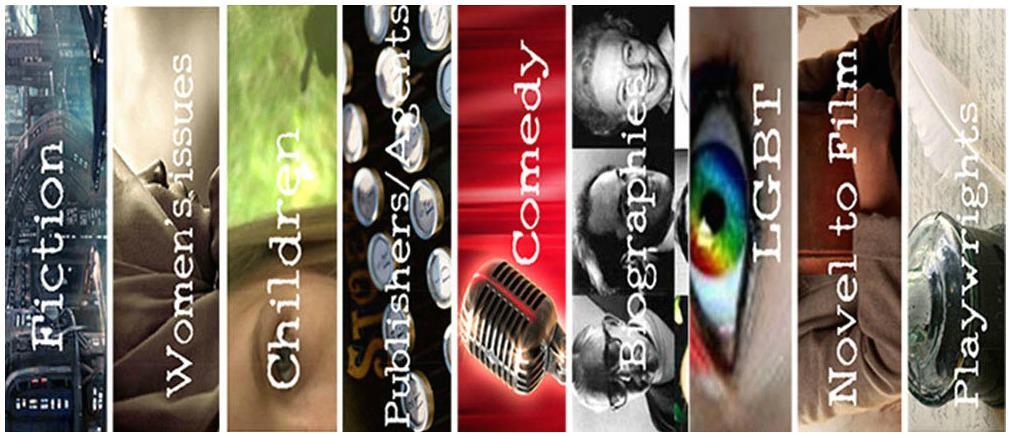 Opening Session ,

Friday October 7th

, 6

- 8 pm

.


$50, $45 IAAC members/NYU Faculty. $25 Students w/ID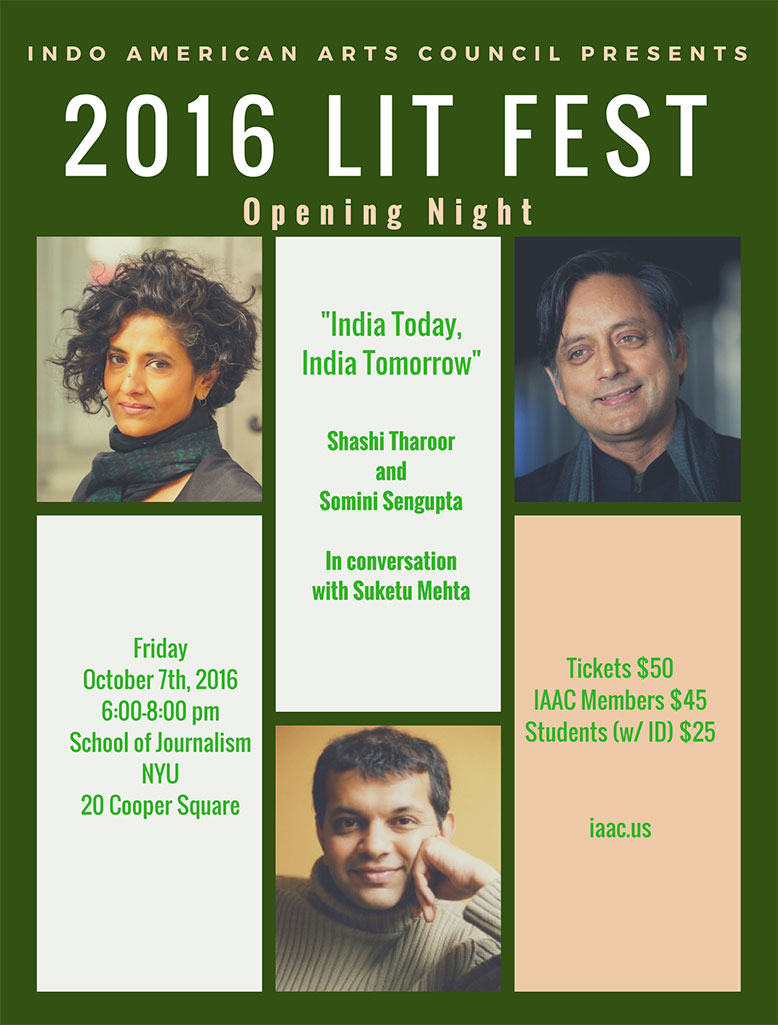 India Today, India Tomorrow
Arthur L. Carter Journalism Institute, New York University - 20 Cooper Square Sixth Floor, New York, NY 10003

Member of Parliament Dr. Shashi Tharoor and NYTimes Award Winning Author Somini Sen Gupta in conversation with Suketu Mehta. Looking at Contemporary India – whre it is in relation to where it should be? What are the reasons for driving it in that particular direction? Are the people and government in sync?
October 8th & 9th, 11:00 am - 6:00 pm.
Author Sessions - see Schedule Tickets: $18 General Admission; $15 IAAC members; Students w/ ID
Rooms 905 & 907; Kimmel Center, NYU
Two days of amazing book readings, fascinating panels, stimulating discussions, awesome book signings, and literary pub crawl.
October 8th, 9 pm: Literary Pub Crawl.


$25 general admission; $20 IAAC Members. 8 pm. White Horse Tavern, 567 Hudson St @ 11th Ave, NYC
Local actors will take you on a fascinating walking tour of several Greenwich Village bars rich with literary history. While you relax over a drink, they will weave fantastic tales of the pubs, the neighborhood, and the writers who helped shape both the village and the world.
Closing Night Session, Sunday October 9th, 7 -9 pm.


$50 General Admission; $45 IAAC members; $25 Students w/ ID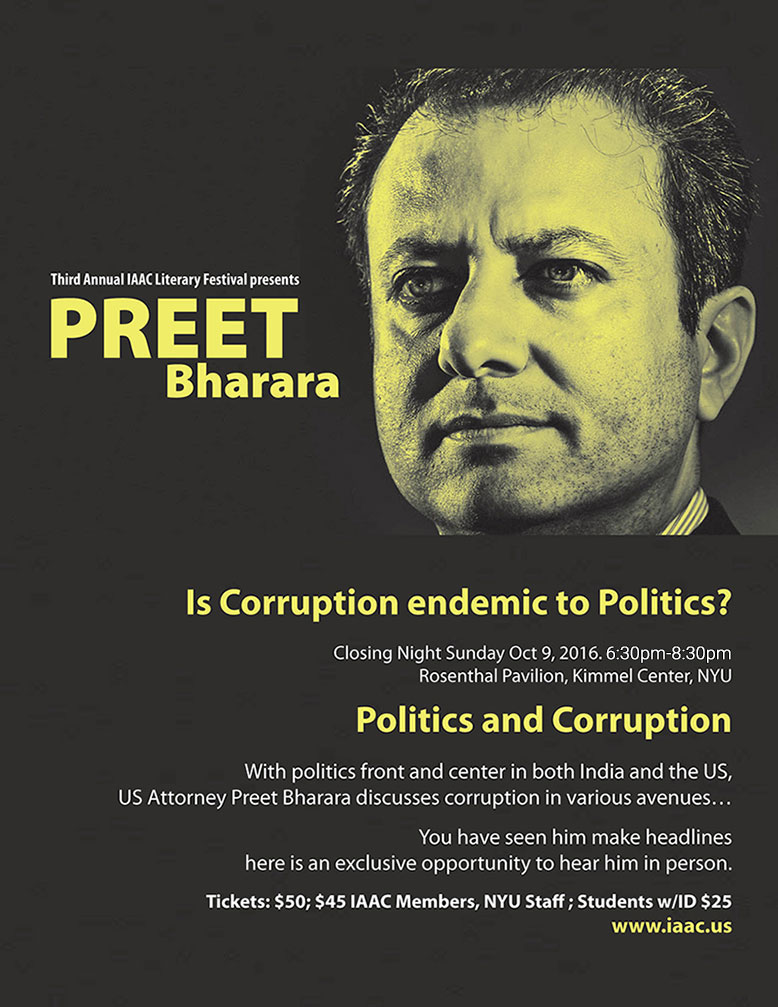 Politics and Corruption
Rosenthal Pavilion, Kimmel Center, NYU

Preet Bharara - Is Corruption endemic to politics? With Politics front and center in both India and the US, US Attorney Preet Bharara discusses corruption in various avenues.
Daily pass:(includes all daytime sessions on either the 8th or 9th): $50; $40 IAAC members/NYU Faculty & Students w/ID

Festival pass: (includes all Lit Fest events and sessions) $150; $120 IAAC members/NYU Faculty & Students w/ID

Individual Session Tickets: $18, $15 IAAC members/NYU Faculty & Students
The Third Annual IAAC Literary Festival will feature work by authors whose heritage lies in the Indian subcontinent, as well as those who have written about a subject connected to any aspect of that part of the world. We will feature veteran as well as emerging authors along with publishers and literary agents in order to create exciting discussions surrounding the various genres and themes represented.
Sponsors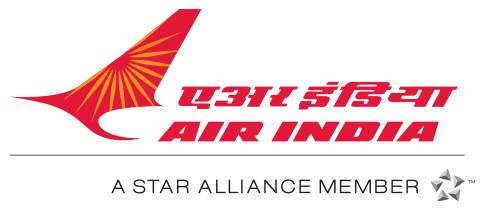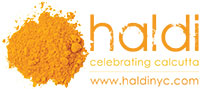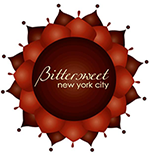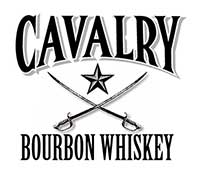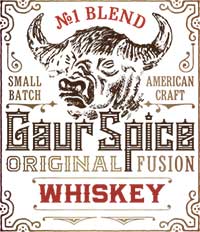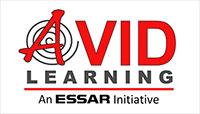 Media Sponsors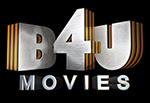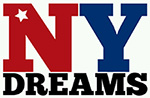 Community Sponsors