INDO AMERICAN ARTS COUNCIL
presents
ERASING BORDERS 2016
Erasing Borders Exhibition of Contemporary
Indian Art of the Diaspora
Opening Reception: Thursday July 14th, 2016. 6:00-8:00 pm.

The Exhibition will remain open from July 14-August 17, 2016
Kapoor Galleries, 34East 67th Street (between Madison & Park), NYC.
Exhibitions are Free and Open to the Public
RSVP:
ebart.iaac@gmail.com
for Map and Directions click here .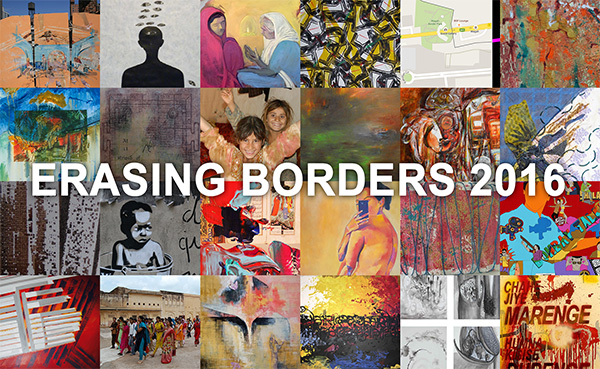 Erasing Borders is a richly provocative exhibition by artists of the Indian diaspora who confront issues of sexuality, terror, disease, the environment, racial and sectarian politics in painting, prints, installations, video, and sculpture. With great technical mastery and diversity of theme and style, these works combine traditional Indian aesthetics with Western elements, and speak to the powerful experience of personal and cultural dislocation in the global village. In its twelfth year, Erasing Borders is curated by Vijay Kumar and produced by the Indo-American Arts Council. Free and open to the public.
Participating Artists: (Click on the artists name for details): Anna Bradfield, Anujan Ezhikode, Arun Prem, Bivas Chaudhuri, Bolo, Delna Dastur, George Oomen, Indrani Nayar Gal, Mansoora Hassan, MD Tokon, Nipun Manda, Norbert Gonsalves, Padmini Mongia, Parul Mehra, Quinza Najm, Pooja Gupta, Radhika Mathews, Rahul Mehra, Reeta Gidwani Karmarkar, Renuka Khanna, Rochana Dubey, Sejal Krishnan, Tara Sabharwal, Uday K Dhar
The Indo-American Arts Council is a 501 3 not-for-profit secular arts organization passionately dedicated to promoting, showcasing and building an awareness of artists of Indian origin in the performing arts, visual arts, literary arts and folk arts. For information please visit